Discover more from Steady Beats | Matt Tillotson
At midlife, big change happens with small and steady beats.
Over 2,000 subscribers
The Mix Tape, Vol. 13
WeWork, Natty Light, the movies, and more

Lucky 13.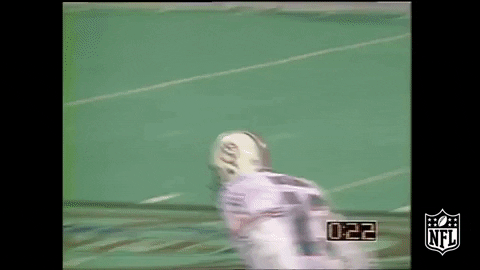 Yeah Dan, we're excited too. Let's go.
---
WeWould run very far away from this IPO
Forget talk of inverted yield curves as the harbinger of recession. We have a clearer signal.
The story of WeWork shows we have reached the apex of hubris in the late stages of this growth cycle.
WeWork:
Manages more than 10,000,000 square feet of real estate, mostly office space.

Has aspirations far beyond being a landlord. It fancies itself as a cultural steward for its tenants and even speaks of interceding in foreign wars.

Wants to "elevate the world's consciousness."
Mess with the unicorn, get the horn: Although based in New York City, WeWork is what Silicon Valley calls a "unicorn" — a rare and magical company achieving scale and hype, allowing its founders and early investors to become rich(er) via an IPO.
All bark and no byte: Although it positions itself as such, WeWork isn't a tech company, at all. It's a commercial real estate ownership and management firm without unique or proprietary technologies.
The "S" stands for shenanigans: As part of its IPO preparation, the company filed its S1 disclosures, and some of those disclosures are spectacular.
Last year, WeWork earned $1.8 billion in revenue and spent $3.4 billion—and it isn't closing the expense gap as it grows.
Per the Morning Brew's perusal of the S1, WeWork has $47.2 billion in future liabilities in the form of long-term leases. Committed revenues from tenants sits at $4 billion.
Yikes. Yet the company has a $47 billion valuation?
But wait, there's more.
There's so. Much. More.
Booze Clues: WeWork used to have an unlimited alcohol policy, which, following a sexual harassment lawsuit, was amended as follows:
Members, who previously had unlimited access to beer and wine on tap, are now limited to "four 12-ounce pours per beer in a single day," and can only access the taps between noon and 8 pm, Monday through Friday.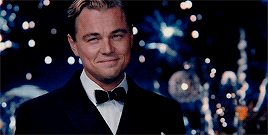 OK, now that we've sobered up, here is WeWork's planned post-IPO corporate structure.
Ready?
These indecipherable hieroglyphics exist, of course, to maximize wealth for executive staff, founders, and early investors. Oh, and tax avoidance, probably.
Just take it from the till: Adam Neumann, founder and CEO, seems to find plenty of ways to cash in:
This should be enough to send any half-witted investor running for the hills, right?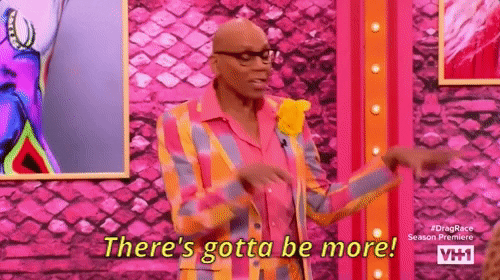 Yes, there is:
Adam Neumann bought buildings that he then leased to WeWork, The Wall Street Journal reported in January. Adam made millions on the deals. In May, he said he would sell the properties that WeWork leases to a real estate investment unit run by WeWork and funded by outside investors, The Wall Street Journal reported. 

The investment vehicle, called ARK, will manage Adam's holdings in 10 commercial properties, the IPO form says. Four of those properties are leased by WeWork.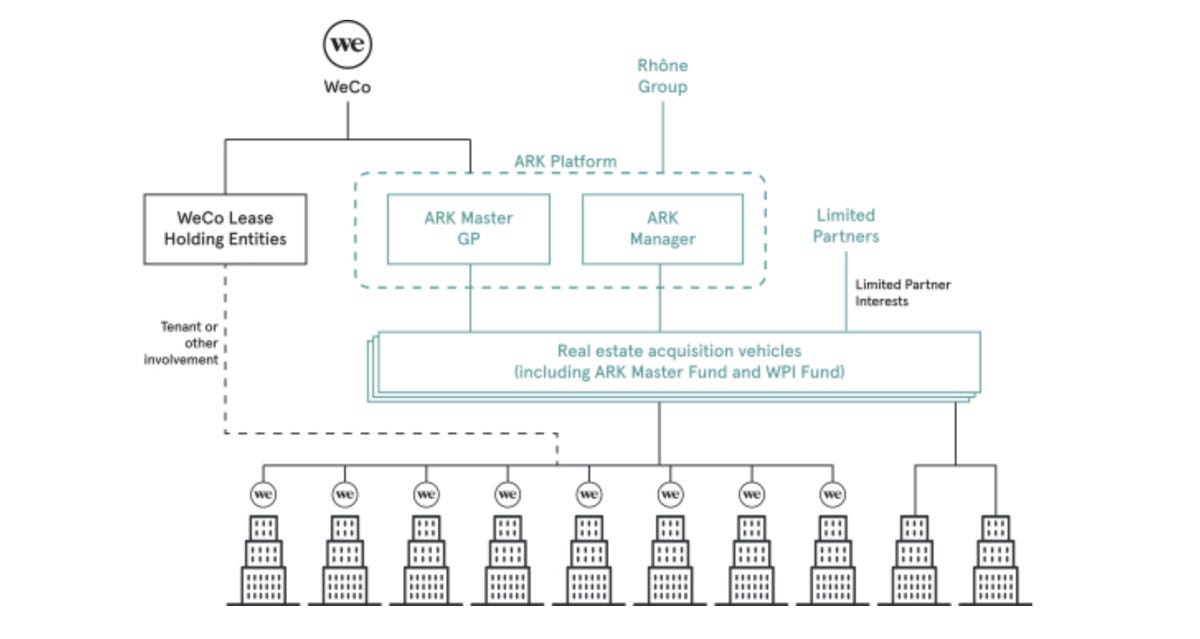 Just take it from the till, Part II: Then there is Neumann's stock option package—exercised by borrowing money from WeWork to buy the shares:
Before 2019, Adam had not received any equity awards, the documents say. But as The We Company got larger, the board of directors decided to give Adam reason to do an IPO, so Adam received options to purchase more than 42 million shares.

[…]

This led to the $362.1 million loan Adam got in April from The We Company to exercise his stock options. Adam repaid the loan this month by giving the shares back.

[…]

"Neumann swapped out a portion of those options the company valued at more than $360 million in a complicated transaction with the company that gave him a financial instrument tied to future WeWork profits."
Are we done yet?
No. No we are not:
Adam spread the financial love to his wider family, too. From The Verge:

One of Adam's immediate family members hosted eight events relating to our Creator Awards ceremonies in 2018, for which she was paid an aggregate of less than $200,000. Another one of Adam's immediate family members has been employed as head of the Company's wellness offering since 2017, and he receives less than $200,000 per year for acting in this capacity.
Will the SEC even allow the IPO to go forward? Remains to be seen.
In the meantime, sit back, drink no more than four adult beverages on a weekday between the hours of 12-8PM, and let's see what happens with this amazing IPO.
---
Speaking of corporate shenanigans
A couple of new fraud allegations are worth paying attention to, simply because of the strong reputations of the companies involved.
"My team has spent the past 7 months analyzing GE's accounting and we believe the $38 Billion in fraud we've come across is merely the tip of the iceberg," Markopolos said in the 175-page report. Markopolos alleges that GE has a "long history" of accounting fraud, dating to as early as 1995, when it was run by Jack Welch.
GE denies the allegations, and is already under SEC investigation for potential accounting issues in other areas.
A former Walt Disney Co. accountant says she has filed a series of whistleblower tips with the Securities and Exchange Commission alleging the company has materially overstated revenue for years.

Sandra Kuba, formerly a senior financial analyst in Disney's DIS, -0.77% revenue-operations department who worked for the company for 18 years, alleges that employees working in the parks-and-resorts business segment systematically overstated revenue by billions of dollars by exploiting weaknesses in the company's accounting software.
Disney also denies the allegations, which were made by an accountant who was fired in 2017.
But, the SEC has requested more information—an uncommon step:
"The SEC receives more than 25,000 tips, complaints and referrals each year, and the vast majority do not make it this far. The fact that the SEC has asked for more information more than once and conducted interviews suggests an inquiry is underway."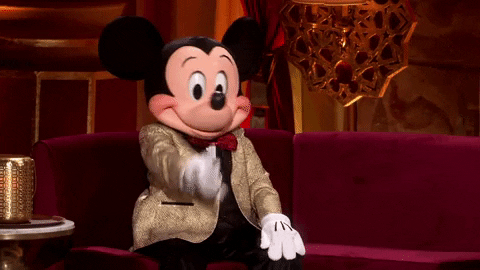 ---
Natty Light, feels right
Alcohol seltzers are sizzling:
Summer 2019 might has well be called the Summer of Seltzer with well-established spirits companies making a splash onto the scene with their own variations of the easily-drinkable cans, from Smirnoff to Svedka.

Hard seltzer sales grew a whopping 169 percent (about $487.8 million) year over year in 2018, according to data from Nielsen, and they don't appear to be slowing down anytime soon.
Seltzers have become a signal for social media users:
Take White Claw for example, a hard seltzer company that's seen a 193 percent growth in sales over the past year alone.

Presumably, this growth is largely in part to the company's primary role in the manifestation of the viral 'Chad' and 'Hot Girl Summer' cultures that have exploded on Instagram this summer.
And so, it makes sense that traditional beer brewers would want in on this action.
But—Natural Light?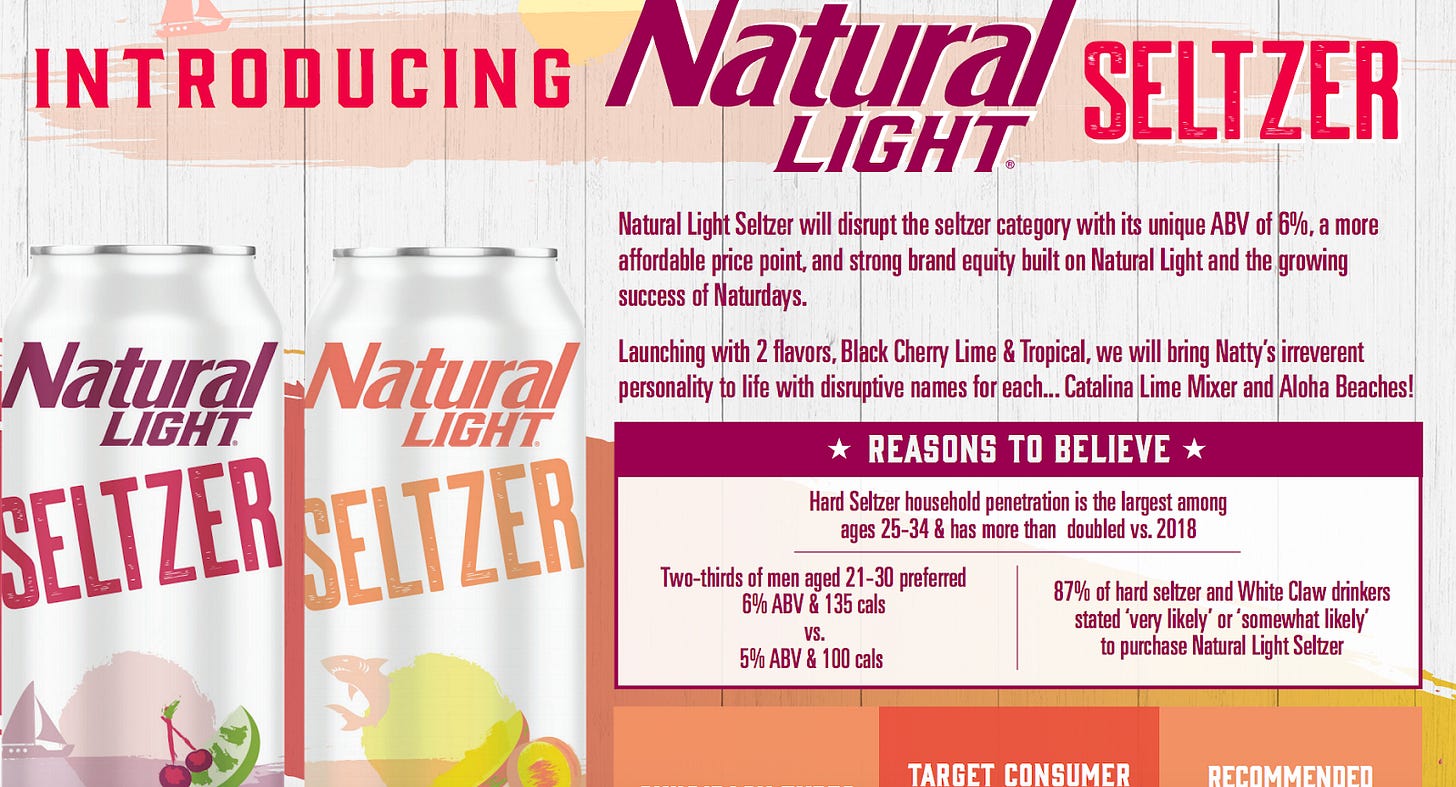 Yep.
At first, I was confused by this product:
White Claw is a status/signaling brand ("ain't no laws when you're drinkin' Claws"), and I thought consumers would be unlikely to be substitute a Natty Light for a Claw in social situations.

Why would Natty Light's target customer be interested in fruity seltzer?
But Natty sees it differently:
"Natural Light is most popular amongst the young, 21+ demographic and that's the group we see as the largest opportunity for Natural Light Seltzer. These consumers are already in the seltzer category, but we're going to bring a more flavor-forward, fun option at a price that better fits their lifestyle. Essentially, we're bringing everything they already love about Natty to a space where that's very much needed."
So Natty Light is going after college kids with this beverage, looking for room down market at a lower price point.
The crazy kids can chug Natty seltzer at tailgates starting September 23.
---
Reminder to myself, mostly:
---
Alamo Drafthouse remembers the Ala—err, its real mission
The Alamo Drafthouse, originally of Austin, Texas, is now a fast-growing movie theater chain with grand expansion plans.
But Alamo Drafthouse looks at its competition differently. Netflix ain't the enemy here:
"I feel like that's the wrong competitor in the fight. I've never felt we're at war with any streaming services," said Tim League, founder and CEO of Alamo Drafthouse Cinema. "No matter what, everybody wants to get out of the house. So we've always considered ourselves to be in competition with restaurants, with roller skating, with going to see live music. The idea is to offer an experience based around movies that competes from a value proposition with all the other things that are in the out-of-home entertainment arena.
Correct!
Instead of wringing its hands about a trend it cannot change, Alamo Drafthouse focuses on an experience that makes people get off the couch.

I'm also a big fan of Michigan-based Goodrich Quality Theaters. Our local theater has a full bar and restaurant, super-comfortable theater seats, and a high-tech audio and visual movie presentation you cannot get at home.

(By the way: 120 days to Star Wars Episode IX.)
---
Straight fire season
Finally, we know football season is nigh when even the equipment staff starts roasting opposing fans on Twitter.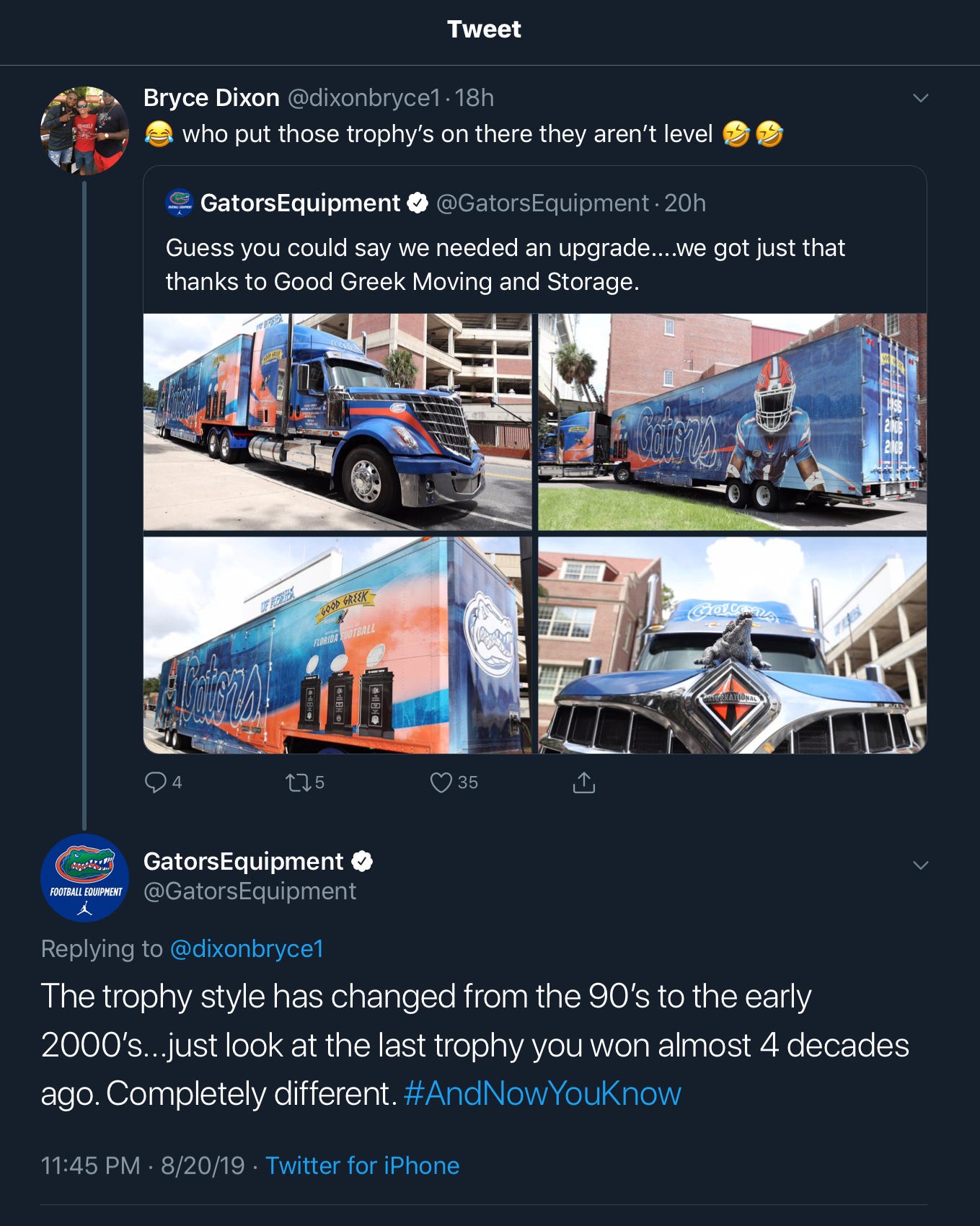 There are no more Saturdays in 2019 without college football, and no more days at all on Twitter without football trash talk.
---
Thanks for reading! See you next week.