Discover more from Steady Beats | Matt Tillotson
At midlife, big change happens with small and steady beats.
Over 2,000 subscribers
The Mix Tape, Vol. 18

Welcome to Volume 18! The Mix Tape can vote now.
---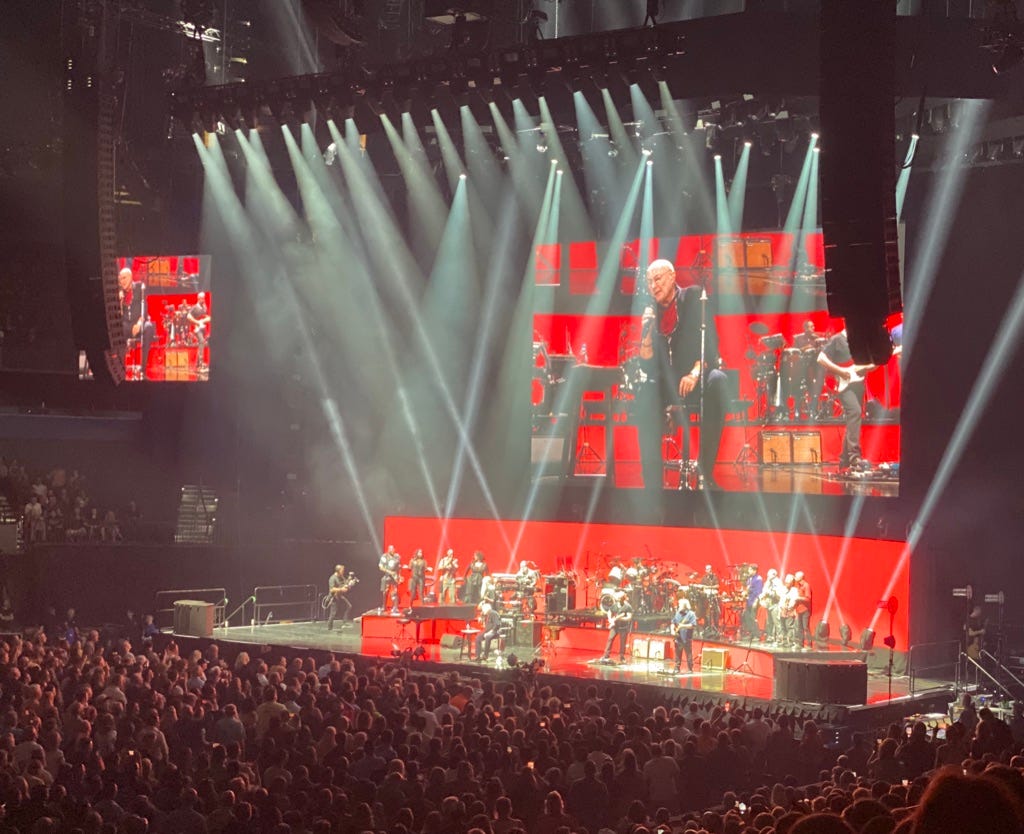 Fighting at Phil
Last night, Nikki and I were fortunate enough to receive a last-minute invite (thanks Larry!) to see Phil Collins on the "Not Dead Yet, Live!" tour.
At 68 years old, Phil still sounds great. Unfortunately, he doesn't move very well anymore; he was seated for 98 percent of the show, and used a cane otherwise.
But one thing at the concert stunned me.
Two gray-haired gentlemen exchanged four-letter pleasantries before things escalated into an all-out, UFC-style brawl.
At … a … Phil Collins concert.
What?
Now, the crowd at a Phil Collins concert is exactly what you envision. This is not a beer-swilling, chest-thumping group.
(Chest-thumping might cause the patrons to spill their Chardonnay.)
So picture these two guys—in their button-downs and khakis—throwing hands while Coach purses and sport coats flailed in the breeze as other concert-goers escaped the sideshow.
Now all this "Fury at Age 55" deathmatch lacks is a soundtrack. And we've got one.
These clowns were fighting during the song "Separate Lives," which is not exactly "Born To Be Wild":
I am glad I was there to see this unfold, and have lived a richer life for it.
Oh, and Phil was good, too.
---
AARP: Hey marketers, some of us are over 35 years old
The organization that sends out membership cards no one wants to receive released an interesting study on advertising recently, surprising no one who pays attention to marketing:
AARP's research underscores what they feel are current advertising inaccuracies. First, most advertising is, unsurprisingly, youth-obsessed. While 46% of the U.S. adult population is over 50, only 15% of media imagery reflects this age group. Additionally, the AARP analysis found that consumers 50+ are often portrayed as "dependent" or "socially isolated." And although one in three people in the work force are over 50, only 13% of the images showed this age group in a work setting.
Fifty-five percent of Americans are 35 or older today. Yet you'd never know it by today's commercials or the still images used in ads to depict American life.
---
iOS13 QuickPath Keyboard
Have you upgraded to iOS 13.1 yet?
I have, and it's stable, as opposed to its deeply disturbed 13.0 sibling.
There's lots of useful new features. One of my favorites is the new QuickPath "swipeable" keyboard.
With the QuickPath keyboard:
You don't have to tap out each letter (though you certainly can if you prefer).

Instead, you can leave your finger (usually your thumb) on the keyboard and just swipe from one letter to the next until you've spelled the word out.
I've been messing with it for a few days and it's works very well. It's not perfect—it doesn't figure out names all that well (though that may improve as it learns about names you frequently type).
Sometimes QuickPath guesses the wrong word as you type, but not often.
All in all, it's a much better way to type one-handed, particularly on today's big screen iPhone models.
Here it is in action:
(Yes, Android users, I know you've had this feature for about a decade. But I'm pretty sure this keyboard doesn't send everything I type to some Google server farm for safe-keeping and advertising exploitation.*)
*This is my own conspiracy theory, based on no evidence whatsoever. But I'm sticking to it.
---
iOS 13 and location privacy
Brian X Chen has a great writeup in the New York Times on the new privacy features Apple introduced in iOS 13—and there are a number of significant changes.
One thing I wasn't aware of: retailers can deploy Bluetooth sensors in-store that alert the app on your phone that you've entered the store. Then the store can track where you wander.
But Apple has now introduced a dialogue box requiring every app you have to get explicit permission to use Bluetooth:
iOS 13 now requires that apps ask for permission to gain access to your Bluetooth sensor, the chip that you typically use to wirelessly connect to accessories like earphones. That can stop many retailers and brands that have deployed Bluetooth-sensing beacons throughout their physical stores from knowing when you have entered their location.

For apps that clearly don't use this sensor for anything other than detecting your location — like the Macy's app — you may choose to reject access.
If you're on iOS 13.1, this is an annoyance at first. You'll be asked for permission almost every time you open an app for the first time after installing iOS13.
And it's creepy to realize retailers were even doing this without permission.
---
Email marketing keeps chugging along
Facebook ads, Instagram influencers, even Tik Tok influencers — all are marketing tactics that grab headlines and the interest of marketers.
But for marketers, email still delivers (easy pun, had to take it):
consumers said they spend approximately five hours a day checking work email (three-plus hours a day) and personal email (two-plus hours a day), according to our 2019 "Adobe Email Usage Study," which surveyed 1,002 U.S. adults in July 2019.
The opportunity to build relationships and sales remains strong. And, as always, much of the content marketers churn out is self-serving garbage, so if your content is both valuable and relevant, your opportunity is even stronger:
Yet only one-quarter of email offers from brands are interesting or compelling enough to open, consumers said.Why don't people open emails? Frequency of brand email communications is the leading annoyance for both work and personal emails, according to respondents. Other issues cited include incorrect marketing data about the recipient, offers to buy an already-purchased product, and poorly written or wordy messages.
Three easy-to-remember basics of effective email marketing:
Write good stuff (compelling headlines, useful and entertaining content).

Add personalization so content and offers are relevant at the individual level.

Don't overdo it. Too much of a good thing (or, worse, a bad thing) creates annoyance and unsubscribes.
---
Americans leaving the largest cities
Great read in The Atlantic by Derek Thompson about the shrinking populations of New York City, Los Angeles, and Chicago:
In 2018, the New York City area lost more than 100,000 people to other cities and suburbs—that's 277 people leaving every day. The Los Angeles and Chicago areas lost, respectively, 201 and 161 residents each day. 
Where is everyone going?
In general, to places where the temperature is higher and housing costs and taxes are lower: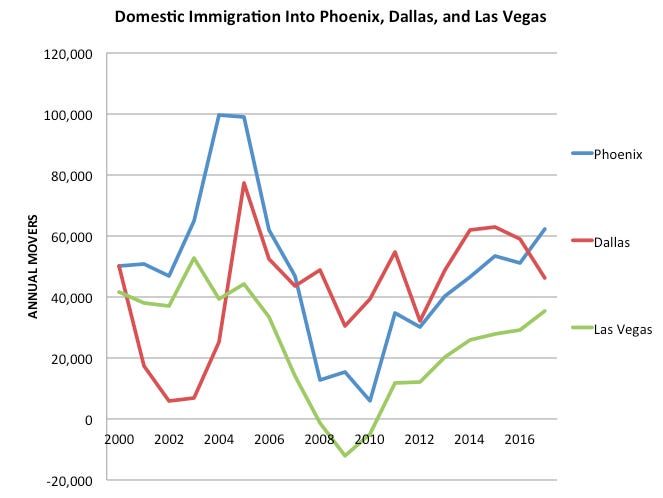 Really interesting, and the changes will impact our politics, I'm sure.
---
Thanks for reading! See you next week.