Discover more from Steady Beats | Matt Tillotson
At midlife, big change happens with small and steady beats.
Over 2,000 subscribers
The Mix Tape, Vol. 20

Welcome! We're geeking out hard this week, so grab your pocket protector: newsletter subscription strategies, SEO, iPhone tips, Star Wars, Boz Scaggs, and more are in The Mix.
But I start this week with a "Happy anniversary" to my bride of 18 years. Nikki says this is her all-time favorite photo, and I can't disagree: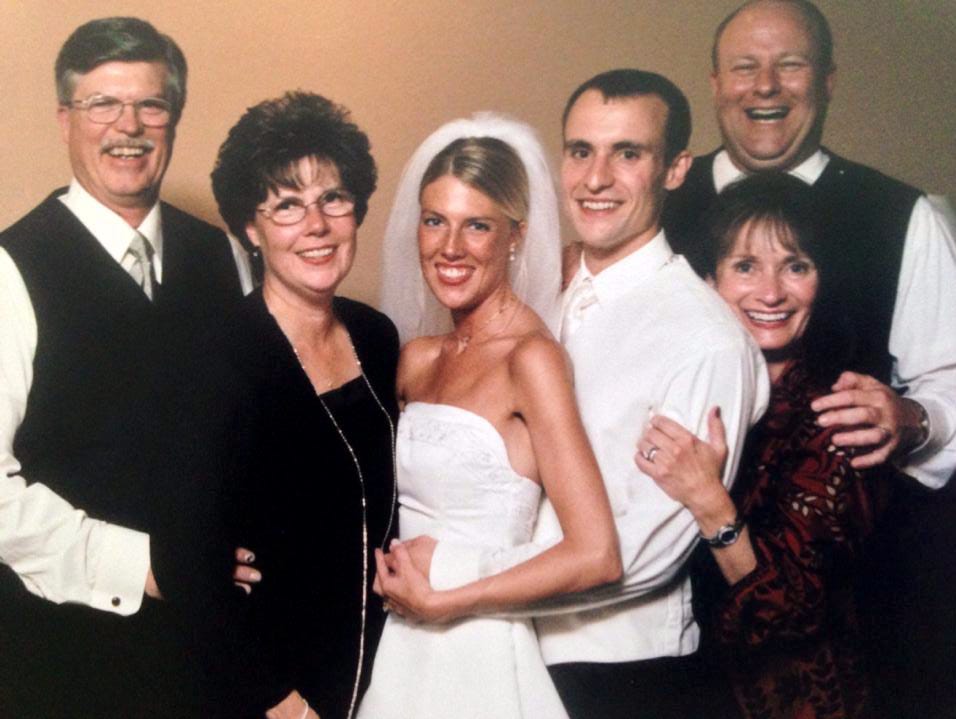 Man, time flies.
---
Growing your newsletter subscriber list
Marketingexamples.com shares its best practices for driving an email newsletter opt-in rate of 12.9% of web site visitors (2% is the industry average):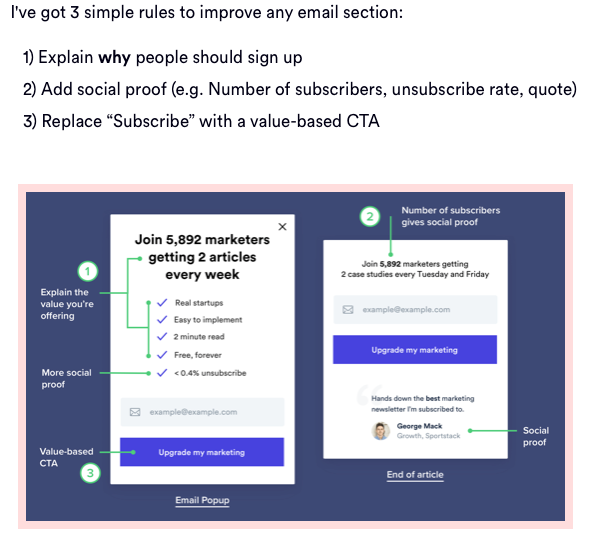 Choosing whether or not to subscribe to an email list is a split-second decision. This means that subtle psychological tweaks can make a big difference.

Here's the checklist:

1) Make it obvious

2) Use an exit-intent popup

3) Get a subscribe page

4) Ask as a human

5) Give a clear reason to sign up

6) Add Social Proof

7) Use value-based messaging
I'm implementing these on my site.
The newsletter signup page has been revamped (subject to additional revampage, of course).
The signup page changed from this: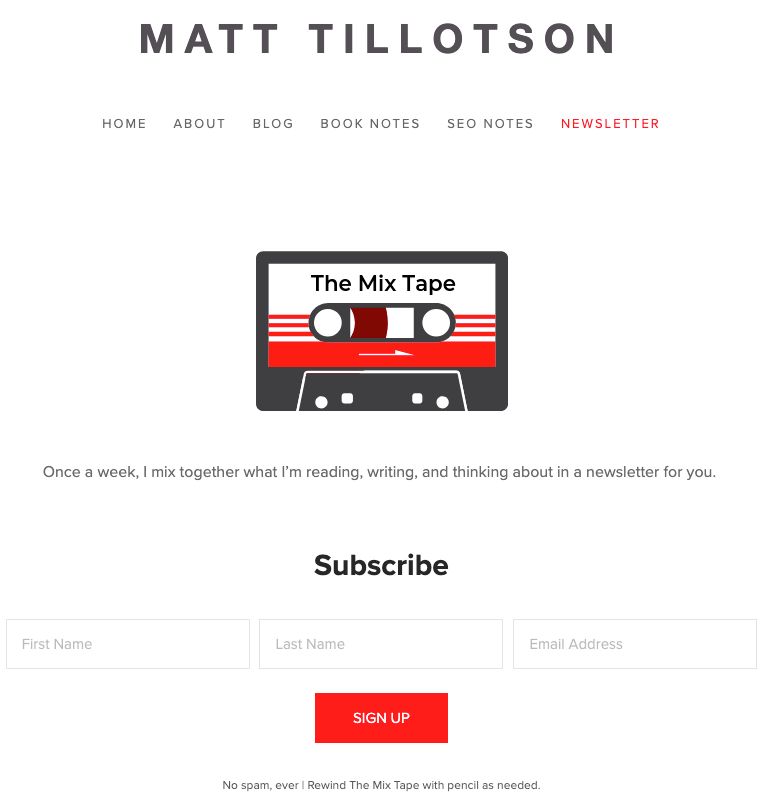 To this: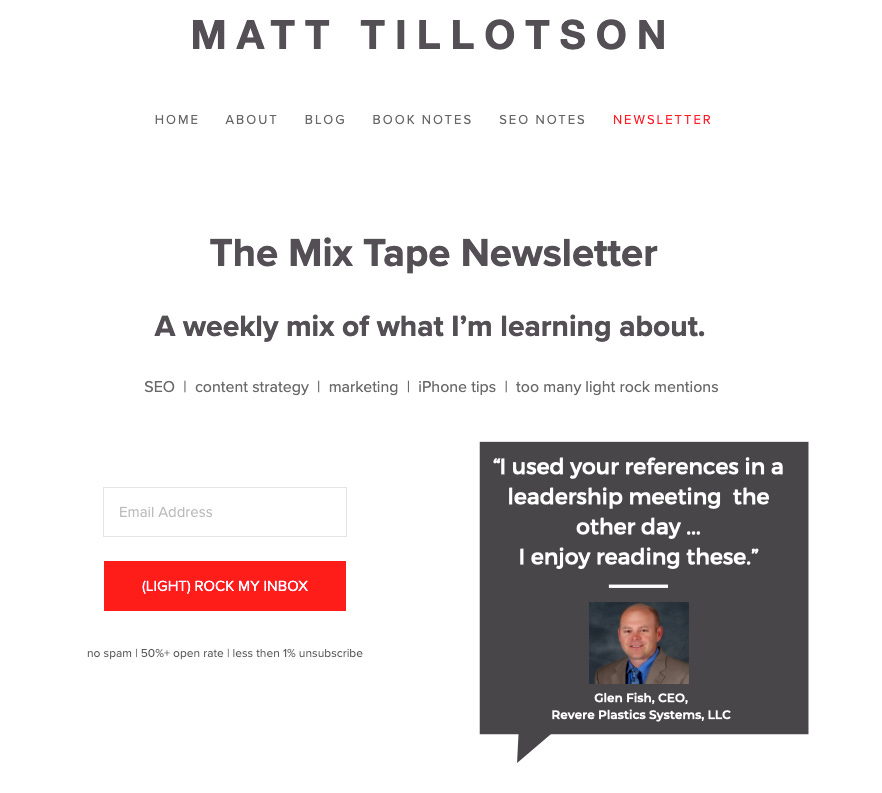 Testimonials are hugely important social proof, so thanks, Glen!
(By the way: if you enjoy The Mix Tape and want to add a testimonial, I'd appreciate it. Just drop me a quick note here.)
Anyway, lots of good newsletter subscription tips in the Marketing Examples piece.
And lots more work to do.
---
Using giant iPhones with one hand
The iPhone Pro Max—and the XS Max , the 11, and the Plus models—have giant and glorious screens.
But your thumb ligaments may long for the days of the iPhone 4, as using these big phones with one hand—balancing coffee in the other—is difficult.
Difficult, but not impossible.
What kind of nerd thinks about this, let alone writes about it?
I am here to serve.
There are actually many small tweaks you can make to make one-handed use much easier:
Keyboard adjustments

Siri shortcuts

Home screen tricks

Accessibility features

Simple gestures
Using these tactics gets you closer to the best of both worlds: the convenience of using a small phone combined with the mega-screens of the large models.
---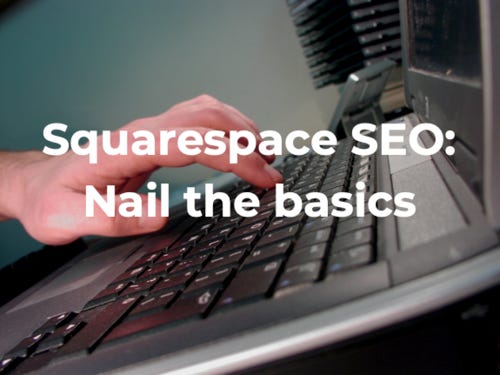 Squarespace SEO: Foundational strategies
I took my own web site through a basic search engine optimization (SEO) audit, taking notes as I went.
Eventually, the notes morphed into a how-to article for SEO on the Squarespace platform. You will find step-by-step instructions for foundational SEO concepts including:
Setting up analytics

Website architecture

URL structure

Internal linking strategy

Correcting broken links

Managing thin, duplicate, and excess content

Titles

Meta descriptions

Headline and subheadline structure

Image compression and alt-text

Submitting your site map to Google
While there is lots more to SEO than these items, getting this list right sets the baseline to help your content rank well in search engine results.
Learn about these foundational SEO concepts by reading what I did with my site here.
---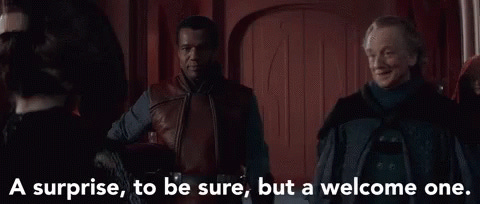 Kevin Feige invades the Star Wars universe
Kevin Feige, orchestrator of the Marvel movie money machine for Disney, will make a Star Wars movie:
To the surprise of no one, Kevin Feige is a huge Star Wars fan. It might surprise many, however, that the Marvel Studios chief is going to be developing a Star Wars movie as Lucasfilm president Kathleen Kennedy makes new plans for a wave of projects set in the universe, The Hollywood Reporter has learned. 
Hmm.
Under Feige's leadership, Marvel has had an extraordinary run of hits, including four of the top 10 movies ever released. This summer, Avengers: Endgame grossed $2.9 billion and surpassed Avatar to become the top grosser of all time, not adjusted for inflation.
Disney has taken a pedal-to-the-metal approach to creating new Star Wars content, but the road has been bumpy:
Numerous directors have churned out of movie projects

"Solo" (a good movie!) underperformed in theaters

"The Last Jedi" faced criticism for, among other things, a disappointing portrayal of Luke Skywalker's character

Disney's new "Star Wars: Galaxy's Edge" lands in Disneyland and Disney World haven't driven the crowds many expected
Kevin Feige is already extremely busy. He doesn't seem like a guy with room to make a Star Wars movie just for fun.
Disney may be positioning him to take over the franchise to see if he can work his Marvel magic in a galaxy far, far away.
---
Cameras, swallowed whole
What a wild graph.
By my math (proceed with caution) that's an 88% market reduction in ten years.
Could the camera industry, in 2009, have seen Apple's three-eyed iPhone Pro camera staring back at it from just ten years in the future?
Seems possible.
By 2009 we were on the third iteration of the iPhone. Phone cameras were common, if still far inferior to dedicated cameras, but steadily improving.
Those inside a disrupted industry are often the last to know.
---
The Lowdown
Let's finish up smooth this week:
---
Thanks for reading!
If you know anyone else who would enjoy The Mix Tape, please send them to my signup page.
See you next week.