Discover more from Steady Beats | Matt Tillotson
At midlife, big change happens with small and steady beats.
Over 2,000 subscribers
The Mix Tape, Vol. 21

Welcome! The Mix Tape is 21, and can drink now. Cheers 🥃
This week: Facebook (ugh), the personal growth roller coaster, a new day for small online businesses, a Star Wars book review, newsletter signup tips, the SEO Tip Sheet, and more.
---
Let me start here:
On this October 16, Happy sweet 16th to Maddie! I can't believe it.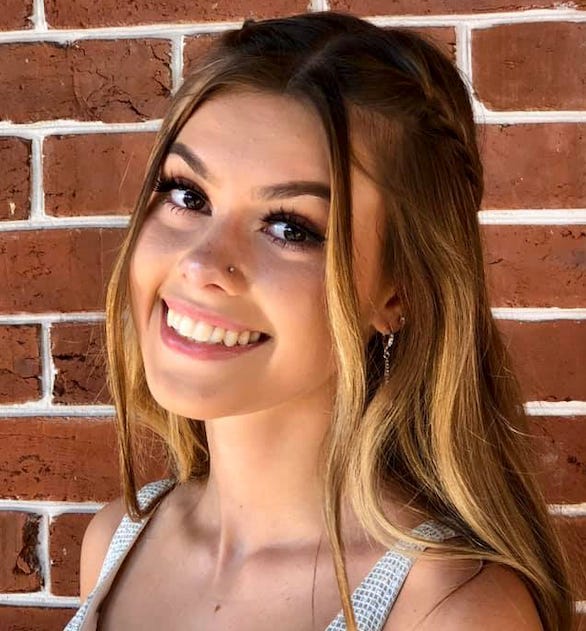 Happy birthday, Maddie. Very proud of you.
---
Facebook … just … ugh
Let's set aside the fake news issues, the rampant disregard for and misuse of user data, and look at new sleaziness by Facebook—video viewership "inflation:"
On Friday, several advertising agencies revealed the details of a proposed settlement with Facebook that would end a class action alleging the social media giant overstated the average time its users spent watching video.
Overstated? Just a bit:
"The average viewership metrics were not inflated by only 60%-80%; they were inflated by some 150 to 900%," stated an amended complaint.
This affected far more than just ad agencies.
Entire businesses pivoted their content strategies, firing writers and moving to or near 100% video content:
Fox Sports, for example, shifted its content model in 2017:
Fox Sports has laid off its staff of online writers and editors, eliminating written content from its digital offerings in favor of more video.

Bloomberg first reported Monday that approximately 20 positions in the Los Angeles office would be eliminated to accommodate the creation of new video production jobs that will better service on-air products.
Facebook is a despicable company dressed up in baby photos and cat videos.
---
The uneven climb of personal growth
Interesting graphic, from David Perrell's excellent Monday Musings newsletter: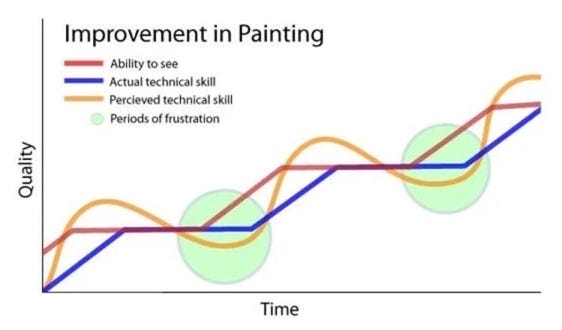 This applies to far more than just painting.
Those green zones: You hit a plateau. But you can see what growth looks like, which causes you to underestimate—and under-appreciate—your current level.
Green zones can be tough time periods.
Over the past couple of years, I've spent plenty of time in the green zones: physically, in my work, and spiritually. All after stagnating for far too long.
I'm grateful for the green zones. That's where the growth is.
---
Book review: "Star Wars, Master and Apprentice"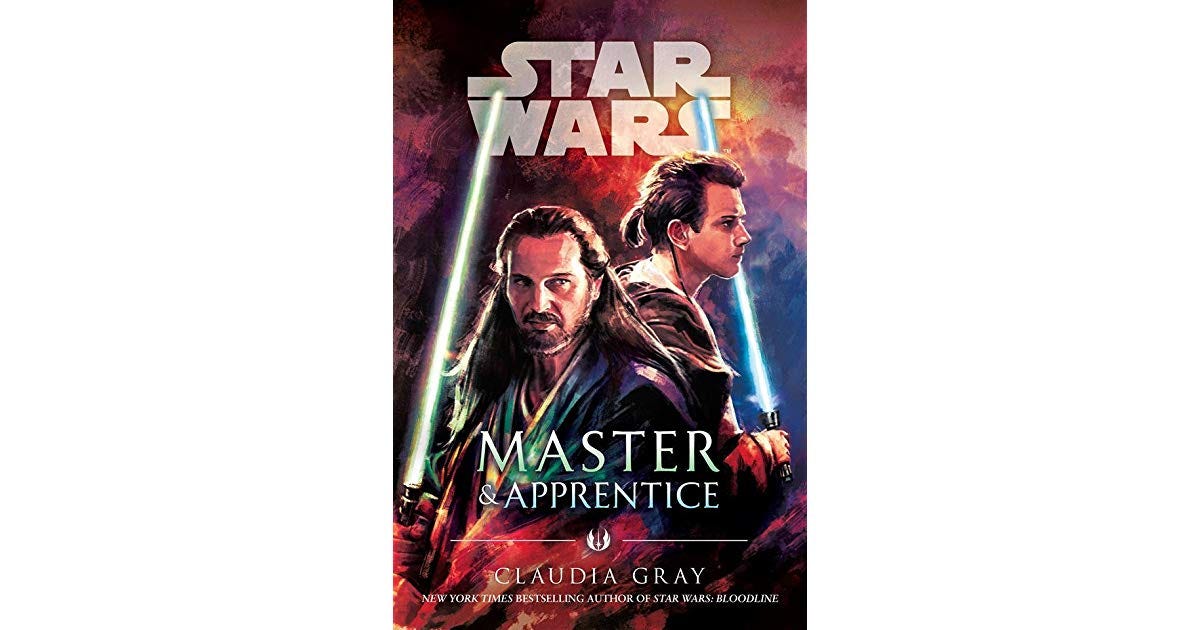 🚨 Nerd alert 🚨
Claudia Gray writes another fun Star Wars novel—and isn't fun supposed to be the point of Star Wars?
Good Star Wars novels feature an interesting story that generally checks a few important boxes. They will:

Deepen and alter our understanding of existing Star Wars canon. By revealing new details or a fresh perspective on existing canon, the book rewards the reader. We learned something new, and are smarter for it.  

Center around well-known and beloved characters. 

Introduce new characters in service of the main storyline and the well-known characters without dragging the reader off on bunny trails.
Full review here, but to cut to the chase: If you're a Star Wars fan, this is a good read.
---
The Passion Economy
Li Jin with a optimistic look at the future of work:
The top-earning writer on the paid newsletter platform Substack earns more than $500,000 a year from reader subscriptions. The top content creator on Podia, a platform for video courses and digital memberships, makes more than $100,000 a month. And teachers across the US are bringing in thousands of dollars a month teaching live, virtual classes on Outschool and Juni Learning.
We are evolving from "The Gig Economy" where, in digital marketplaces like Fivrr, skills are undifferentiated, and wages race to the bottom:
New digital platforms enable people to earn a livelihood in a way that highlights their individuality. These platforms give providers greater ability to build customer relationships, increased support in growing their businesses, and better tools for differentiating themselves from the competition.
The differences, laid out: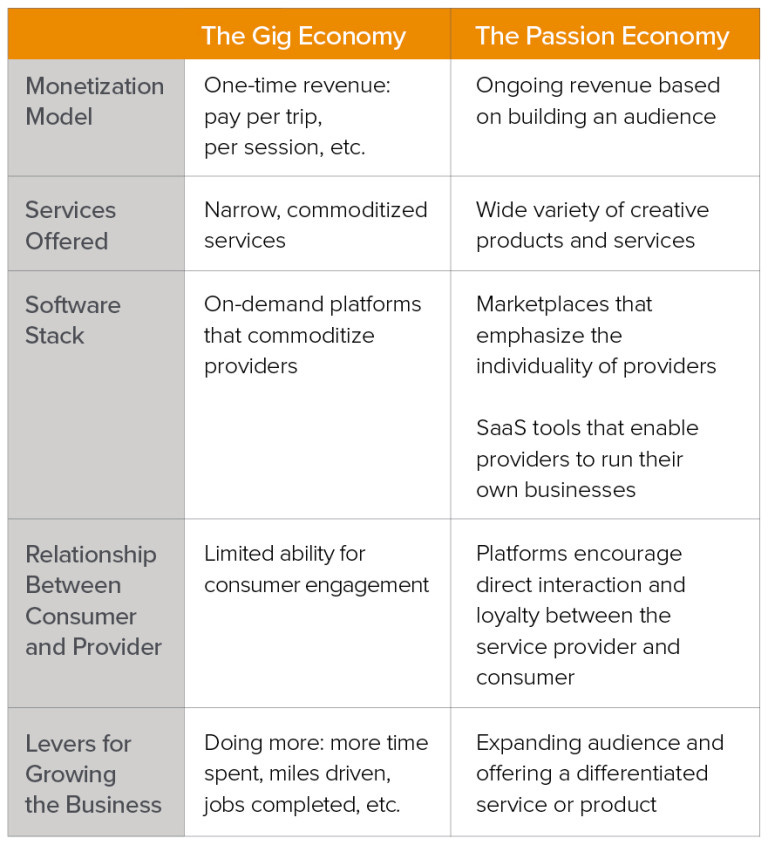 The internet was supposed to level the playing field: an individual could have just a strong a presence and voice as the largest corporation.
Instead, the most powerful entities have often used the internet to transfer wealth upward by commoditizing entire industries (taxis or basic creative services, for example).
This analysis is the most encouraging thing I've read about small online businesses in a long time. Great trend.
---
Improving Newsletter signup conversions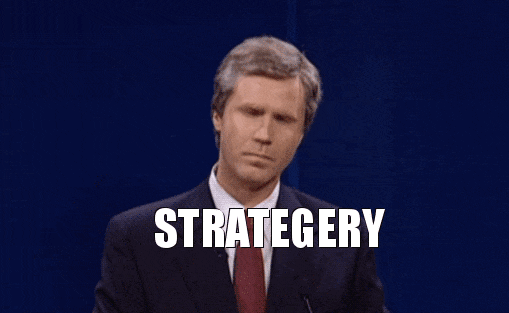 I touched on this last week, and this week wrote a blog post detailing all the steps I took to improve (*cough* actually start getting) newsletter signups at my site. (All based on the fantastic Marketing Examples case study.)
I walk you through:
Revamping the signup page (simplifying, adding social proof, and new CTAs)

Creating a subscription pop-up

Creating a a sign-up thank you page

Setting up and tracking signup conversions in Google Analytics

A bonus: improving newsletter promotion on social media
See how to nail the basics of newsletter signup conversions here.
---
SEO Tip Sheet
I'm very interested in search engine optimization (SEO)—the practice of increasing the quantity and quality of traffic to your website through organic search engine results.
Being successful with SEO requires:
Strategy

Marketing

Writing

Some tech nerdery
In other words, it's right up my alley.
You're also never done learning—also right up my alley.
So what?
I started publishing an "SEO Tip Sheet"—a roundup of links to what I found interesting in SEO over a given week.
But, I'm not sure yet how best to share it here.
Share it all? Some of it?
This week, I share all of it, which follows below.
Think of it as "Side B" of The Mix Tape.
And we will see how it goes.
---
Why a Google core update affects your site ranking



The Google update didn't "cheat" you out of your ranking (if it drops).

Instead, the update chose something else as more relevant to users.

Sometimes, it's not about you.
---
Google's introduced new link attributes:




"sponsored" and "UGC" 



---
A term I liked: "Pain point SEO"
Structure content around the problems people are trying to solve—not your own products and services—and you'll attract a more ready-to-buy audience.
---
The user is most important
When in doubt, prioritize the user.

Actually, do that when not in doubt, too.
---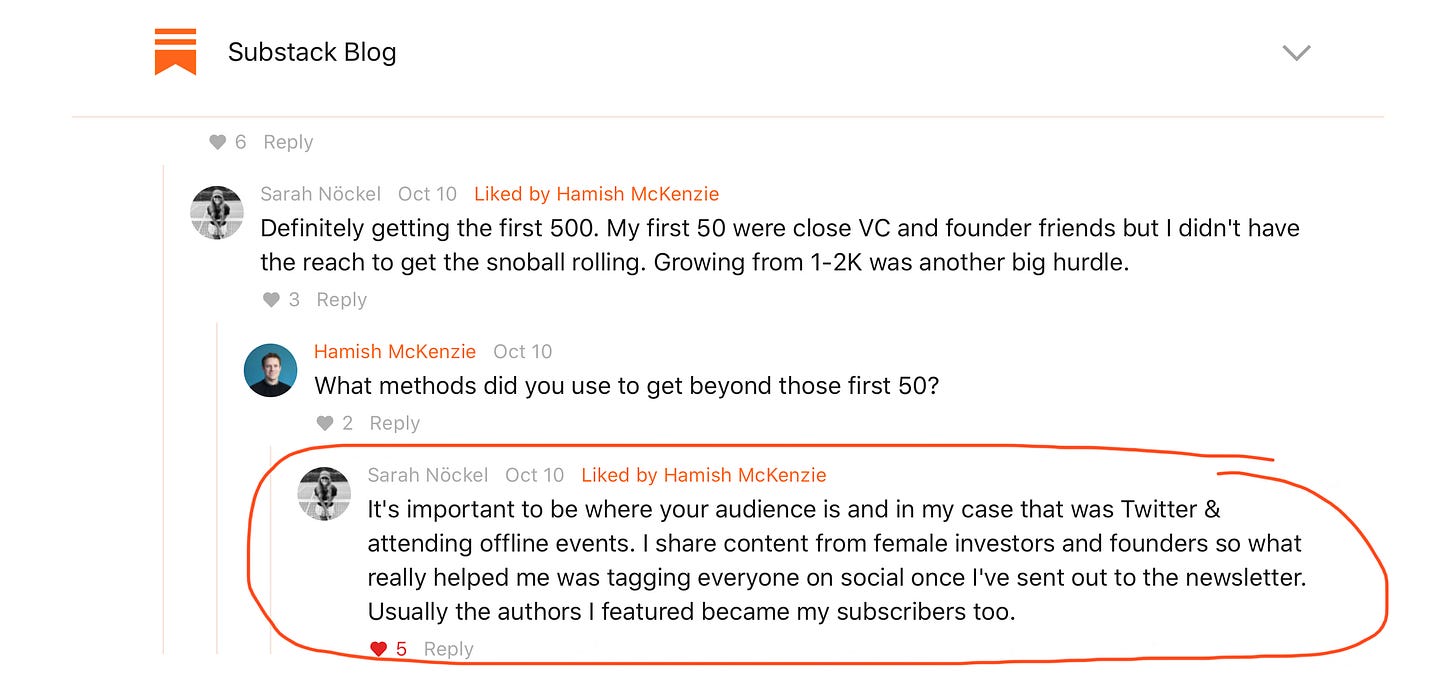 When you promote your newsletter in social media, promote the content creators you link to.

Sarah knows what she's talking about: she's built her newsletter to over 5,000 subscribers.
---
Deep resource on many SEO topics 
---
Conducting Local keyword research
Covers numerous tools, including:
Google Trends

Google Keyword Planner

AHrefs

SEMRush
---
On clean web design 
---
A scam you can ignore
There's a new scam going around, where someone threatens to ruin a site's ranking by hitting it with spam links if the owner doesn't buy the sender's products (in other words, pay an extortion fee). 
Google says to ignore it, because Google will ignore the spam links.
---
Thanks for reading!
Do you know someone who might enjoy The Mix Tape?
I'd appreciate it if you'd send them to the signup page.
See you next week!