Discover more from Steady Beats | Matt Tillotson
At midlife, big change happens with small and steady beats.
Over 2,000 subscribers
The Mix Tape, Vol. 23
Welcome! This week: help with writing, Maldives travel insanity, the need for speed, and the SEO tip sheet.
---
"Everybody Writes," by Ann Handley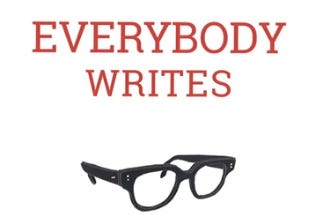 It's true.
Everybody does write—especially marketers.
Handley wrote her guide to business writing, "Everybody Writes," five years ago, and it's still super helpful today.
She offers strategies to communicate more clearly across any medium, and specific tactics for various comm channels: email, social media, blog posts, and more.
This book is best described as accessible. Everybody Writes covers grammatical rules and lots of writing dos and don'ts, but never gets preachy or overly technical.
Like in her excellent newsletter, Total Anarchy, Handley writes in a conversational style with plenty of humor. Everybody Writes is both useful and engaging.
You can:
---
WeWork / Adam Neumann Tweet of the week
Consider this a weekly feature until further notice.
For the "underling'" travel to the Maldives required a bit more than a Southwest Air quick-hop.
It's an 8,991 mile trip.
One way.
---
The Need for Speed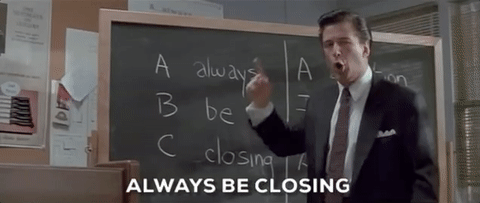 They say money is attracted to speed. I've never been exactly sure what that means.
Here's an instance where it's really true. Companies make massive investments to generate online leads, but are they following up with the speed required? Because you have to move fast:
Firms that tried to contact potential customers within an hour of receiving a query were nearly seven times as likely to qualify the lead (which we defined as having a meaningful conversation with a key decision maker) as those that tried to contact the customer even an hour later—and more than 60 times as likely as companies that waited 24 hours or longer.
Just as amazing—or maybe not—is the number of companies that burn resources to generate leads and then never follow up at all: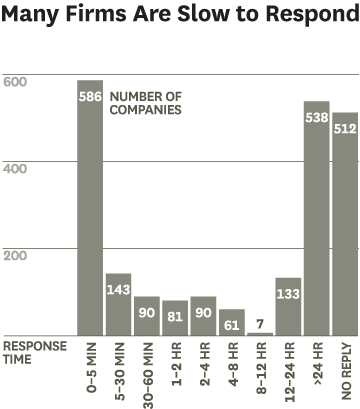 Online leads are an all-or-nothing game. Respond immediately, or don't bother.
---
SEO Tip Sheet #4
A roundup of what I found interesting in the world of SEO this week.
Articles
12 Ways to Get on the First Page of Google (With Templates & Examples)
Good snippet on keyword canibalization: 

At first, you might think it makes sense to have more than one page ranking for the same keyword.

But it's not.

For starters, Google doesn't know which of the pages to rank highest. And in some cases, it decides to ignore both pages.

And second, backlinks and shares get split between the pages, which leads to less authority for each page. (And that's bad, because we've seen, pages with higher authority tend to rank better.)

In short: when your website is competing with itself, you're significantly diluting your chances of ranking at all!
SEO & JavaScript: 6 Things You Need to Know
Recently, I've seen job descriptions requiring knowledge of how JavaScript issues can affect SEO. This article is a useful primer, especially if you're not a developer.
Understanding searches better than ever before
Google, discussing its new BERT technology for search:
Here's a search for "2019 brazil traveler to usa need a visa." The word "to" and its relationship to the other words in the query are particularly important to understanding the meaning. It's about a Brazilian traveling to the U.S., and not the other way around. Previously, our algorithms wouldn't understand the importance of this connection, and we returned results about U.S. citizens traveling to Brazil. With BERT, Search is able to grasp this nuance and know that the very common word "to" actually matters a lot here, and we can provide a much more relevant result for this query.
Welcome BERT: Google's latest search algorithm to better understand natural language
In short, BERT can help computers understand language a bit more like humans do.

Just write content for users, like you always do. This is Google's efforts at better understand the searcher's query and matching it better to more relevant results

We care, not only because Google said this change is "representing the biggest leap forward in the past five years, and one of the biggest leaps forward in the history of Search."

But also because 10% of all queries have been impacted by this update. 
Inside Mozilla's 18-month effort to market without Facebook
Mozilla is the maker of the Firefox web browser

18 months ago, it stopped advertising on Facebook because of Facebook's data policies.

Mozilla shifted its marketing spend from 80% digital to less than 10%, focusing on events

The company already had what it calls its "lean data" practices. That means the company doesn't collect data on consumers that would surprise them and doesn't collect data "unless [we] can deliver value as an organization with that data," said Kaykas-Wolff.  
---
Infographics

Tweets
---
Thanks for reading! 
Do you know someone who might enjoy The Mix Tape? 
I'd appreciate it if you'd send them to the signup page. 
See you next week.