Discover more from Steady Beats | Matt Tillotson
At midlife, big change happens with small and steady beats.
Over 2,000 subscribers
The Mix Tape, Vol. 28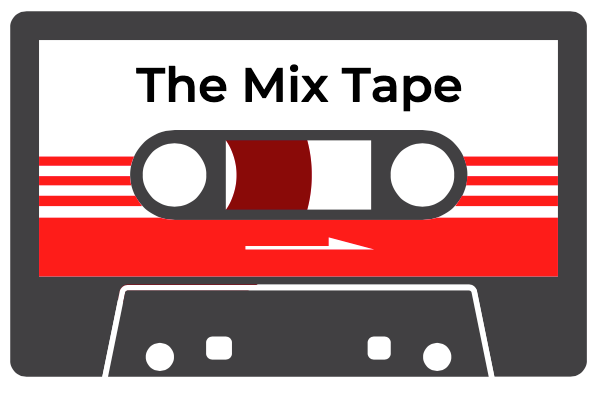 Welcome! This week: fighting (or not) the winter blues, write like an Amazonian, The Ruthless Elimination of Hurry, Star Wars: Alphabet Squadron, and remembering what matters this holiday season.
---
To Fight the Winter Blues, Stop Fighting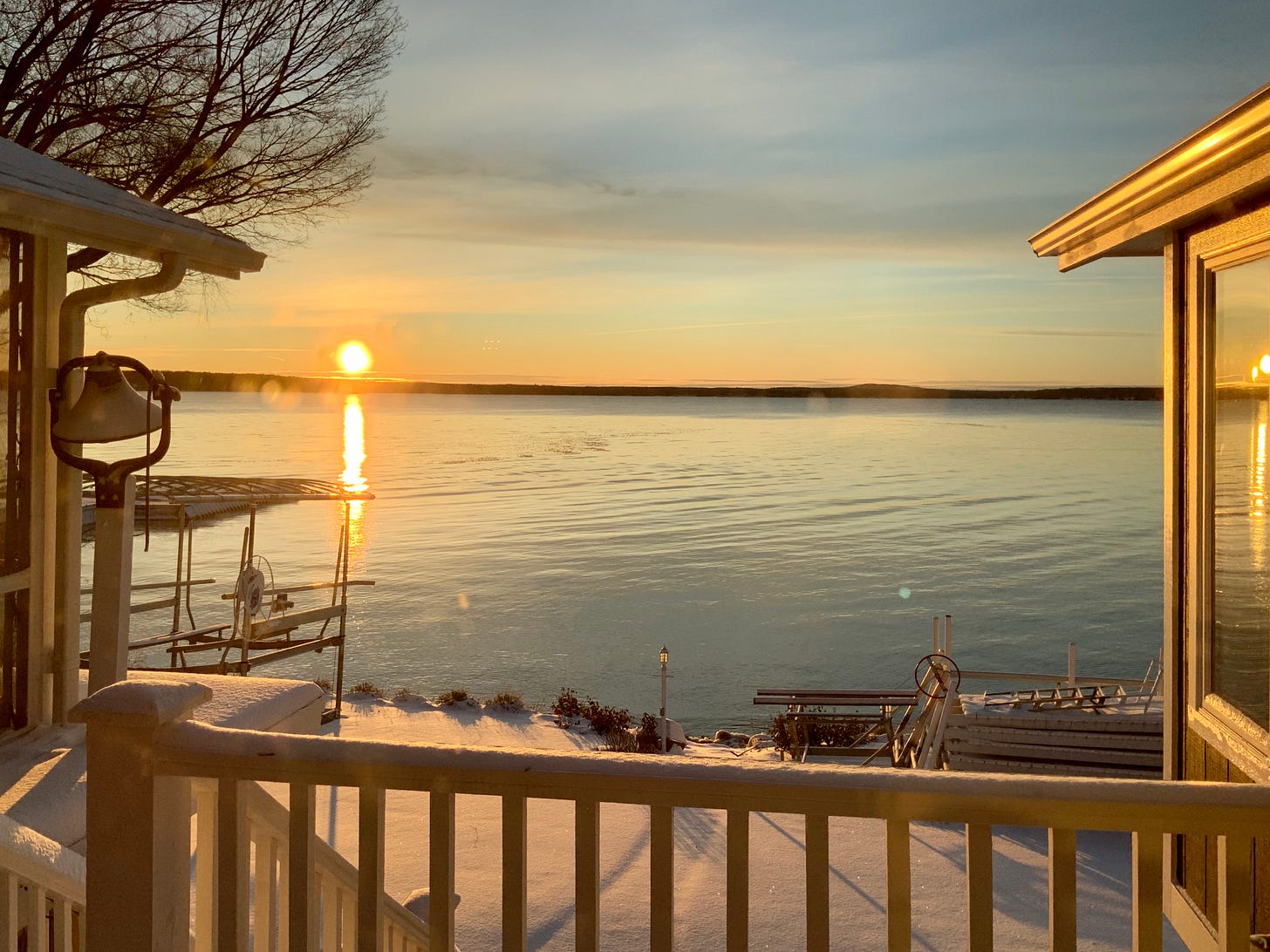 I spent time (unexpectedly!) in Northern Michigan over Thanksgiving week, and saw plenty of snow.
By design, it's been years since winter and I have spent an appreciable amount of time together.
But I kinda enjoyed the weather, to be honest.
If you're in the North Country and not looking forward to a long winter's nap, here's some insight on how to fight the winter blues:
I grew up in Wisconsin, and have lived in Iowa, Minnesota, and New York. Except for a two-year stint in the Bay Area, I've experienced winter — real winter, with lots of snow, below-freezing temperatures, and little daylight — every year of my life and never had a problem with it. So I was surprised when my last two Vermont winters put me on my ass.
The key is mindset:
In August 2014 I moved to Tromsø, Norway, an island of 70,000 people located over 200 miles north of the Arctic Circle.

[…]

My research led me to a surprising conclusion: perhaps the psychological concept of mindset is the reason for their winter well-being.

[…]

Most people I spoke to in Tromsø were actually looking forward to the winter. They spoke enthusiastically about the ski season. They loved the opportunities for coziness provided by the winter months.

[…]

The results of our study in Norway found that having a positive wintertime mindset was associated with greater life satisfaction, willingness to pursue the challenges that lead to personal growth, and positive emotions.
Even in Tampa, I feel a little more glum when the time changes and darkness sets in early.
But it turns out winter is no different than most other life circumstances. Find the good, embrace the reality of it, and see your happiness improve.
---
Write Like an Amazonian
Some writing tips shared in the Write of Passage course I'm taking: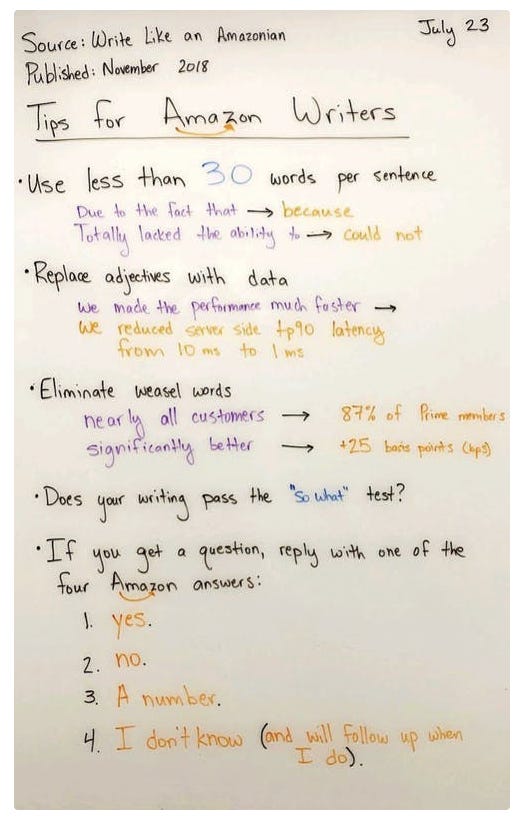 These tips boil down to:
Be clear

Be precise

Be efficient
---
I mentioned this book previously, but now I've put together a more complete summary of the book's key ideas on my site.
John Mark Comer, a Portland area pastor, brings together minimalism and Christianity in what is—but shouldn't be—a highly counter-cultural message about modern life.
Comer lays out why our culture leaves us distracted, distressed, and discombobulated, and shares the answers from the Bible to live a more centered and peaceful life. 
Here's to tomorrow morning, six o'clock. Coffee. The chair by the window, the window by the tree. Time to breathe. A psalm and story from the Gospels. Hearing the Father's voice. Pouring out my own. Or just sitting, resting. Maybe I'll hear a word from God that will alter my destiny; maybe I'll just process my anger over something that's bothering me. Maybe I'll feel my mind settle like untouched water; maybe my mind will ricochet from thought to thought, and never come to rest. If so, that's fine. I'll be back, same time tomorrow. Starting my day in the quiet place.
Maybe the most impactful book I've read this year.
---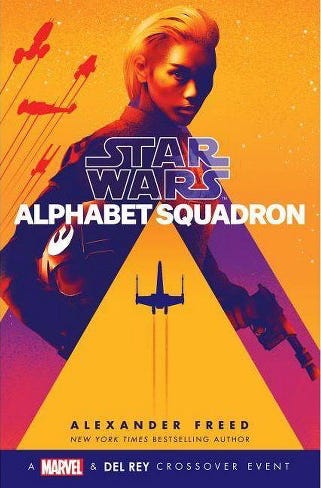 The Alphabet Squadron—a thrown-together group of fighter pilots charged with rooting out the remains of the Empire after the Battle of Endor—faces a series of increasingly tough missions.
But this book has a tough mission of its own. It's kicking off a new trilogy with completely new main characters.
It doesn't get the marketing boost from characters we know from the films. Instead, the story starts from scratch, aiming to draw the reader in with interesting character backgrounds and arcs coupled with some excellent written descriptions of space battles.
The book largely succeeds. You can read my Alphabet Squadron review here.
---
On Family During the Holidays
The holidays are here, and so are the usual articles about how to "survive" the holidays with family, including—heaven forbid—interacting with a relative who may disagree with certain aspects of your political viewpoint.
Seriously?
But this article gets to the real point:
How much do you know about your parents?  What about the rest of your extended family?

[…]

This idea hit me like a ton of bricks during a Netflix standup special I saw a few weeks ago where the comedian asked the audience:

Do you see your folks enough?  How often do you see them?  What?  Two, three times a year?  What do they got left, maybe 20 years?  That's 60 more times you get to see them?  That's it.  60 more times.  60 more hangs.  Are you making the most of these hangs?  Are you creating cherished memories?

Try to remember this line of questioning as you sit down for Thanksgiving dinner this week.  Try to remember how little time we really have in this life and then take a moment to ask some deeper questions.  Take a moment to get to know your family just a little better.  Because once they are gone, you are the one who will have to tell their stories.
Let's cherish the time we have together.
---
Thanks for reading! 
Do you know someone who might enjoy The Mix Tape? 
If so, please send them to the signup page. 
See you next week!