Discover more from Steady Beats | Matt Tillotson
At midlife, big change happens with small and steady beats.
Over 2,000 subscribers
The Mix Tape, Vol. 31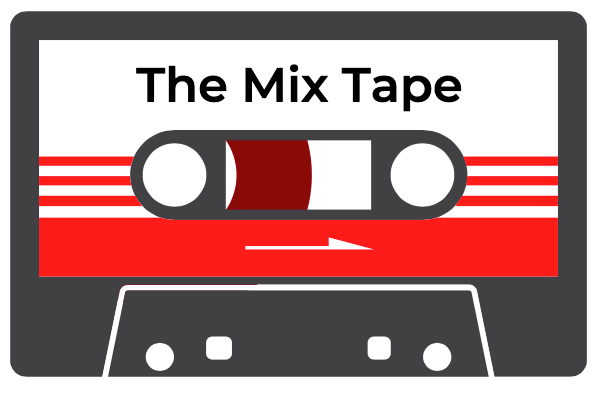 Welcome! I hope the holidays are treating you well. This week: "The Living Great Lakes," "garbage time" is the best time, and J.J. Abrams reminds us how to handle criticism.
---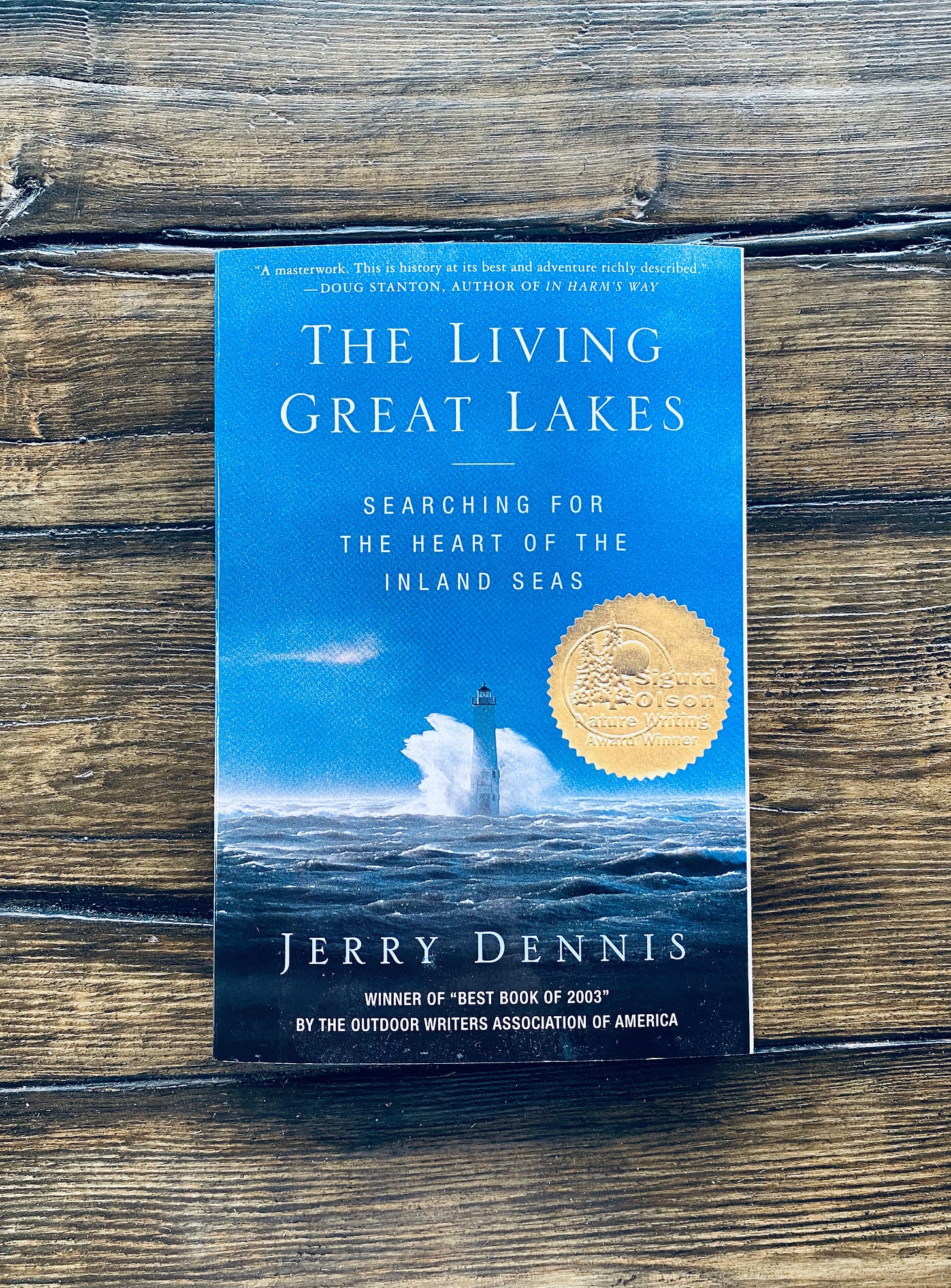 "This lake without sails, this shore which does not yet show any trace of the passage of man, this eternal forest which borders it; all that, I assure you, is not grand in poetry only; it's the most extraordinary spectacle that I have seen in my life."
—Alexis de Tocqueville, in Democracy in America (1831)
Jerry Dennis is a Michigan native and author living in Traverse City, Michigan. He is a prolific and talented writer who, in "The Living Great Lakes," brings to life the awe, expansiveness, and turbulent nature of the Great Lakes. 
It's hard to appreciate the Great Lakes, one of our planet's most impressive and important natural resources, without seeing them firsthand. 
In various conversations throughout the years, for example, I've had numerous people express surprise that you cannot see across, say, Lake Michigan, while standing on the shore. 
The Great Lakes aren't truly appreciated for their scope and power. 
Neither is the danger. The lake bottoms are littered with the remains of ships with crews who challenged the lakes, and lost everything. Some were simply swept under in the powerful storms that arise quickly, from seemingly nowhere.
Dennis takes us on his journey through the lakes—and beyond—from Chicago all the way out to the Atlantic. Along the way, he shares the history and science behind the Great Lakes, while also illustrating why is it so important to protect them.
And while we are getting better at keeping the lakes clean (it's been a long time since Lake Erie caught fire …) pollutants and invasive species still threaten the Great Lakes' natural balance. 
Dennis sails with different vessels to complete his journey through the lakes. First, he boards a sailboat for the Chicago-to-Mackinac Sailboat Race, blending in with a private crew trying to grab its first victory. But sailing the lakes is a unique challenge:
We were in open water now, exposed to the biggest waves. They were typical of the Great Lakes—not rollers, but steep, short-period wind waves. Freshwater is less dense than salt water, so lake waves rise quicker and run faster and can be harder for a boat to negotiate than the long rollers of saltwater seas.
Dennis brings the lakes to life with his writing:
From the Gauntlet that morning we watched the sun rise slowly, an orange glow in the whiteness, as the fog disintegrated a droplet at a time.
Following the race, Dennis boards the Malabar, a cement-hulled schooner sporting two sixty-foot masts. We sail with him through trials--on the water and amongst the crew--learning about the history and perils of Superior, Huron, Erie, Ontario, and the Erie Canal, before traveling down the Hudson and out to sea. 
The Great Lakes are underappreciated and misunderstood. Their ecological, historical, and meteorological impacts are far larger than people who haven't spend time around them can appreciate. Dennis takes us on an interesting and enlightening journey, and it's time well spent on the high (freshwater) seas.  
---
No Such Thing as Quality Time
Ryan Holiday, reminding us that quality time happens in between the things we schedule:
… there is no such thing as "quality time." Jerry Seinfeld, who has three teenage kids, put it well:

"I'm a believer in the ordinary and the mundane. These guys that talk about 'quality time' — I always find that a little sad when they say, 'We have quality time.' I don't want quality time. I want the garbage time. That's what I like. You just see them in their room reading a comic book and you get to kind of watch that for a minute, or [having] a bowl of Cheerios at 11 o'clock at night when they're not even supposed to be up. The garbage, that's what I love."
Personally, I like things to go efficiently and According To Plan.
Sometimes I feel much of my adult life has been an endlessly repeating lesson in teaching me that The Plan will not:
A) unfold smoothly,
B) Occur efficiently, and/or
C) Not unfold at all. Instead The Plan will catch fire, disintegrate, and its smoke will rise up to mock my hubris.
If I just paid attention to what was in front of me, instead of worrying about The Plan, my life would be richer and more full of meaning anyway.
There's a Tolstoy quote I love: "There is no past and no future; no one has ever entered those two imaginary kingdoms. There is only the present."

When you realize there is no such thing as "quality time," when you become okay with "garbage time," you end up getting the best kind of time there is. You get the moment right in front of you.
So true.
---
J.J. Abrams on handling criticism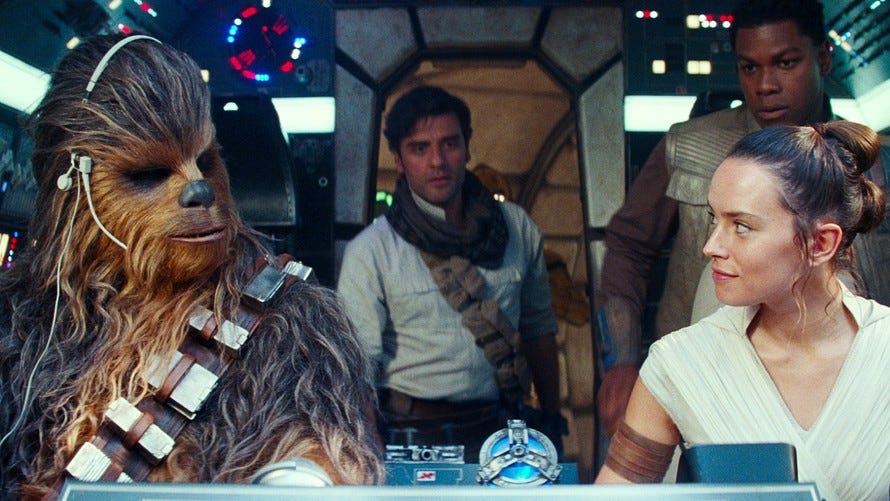 "The Rise of Skywalker" is out and raking in cash:
"Star Wars: The Rise of Skywalker" picked up momentum and logged the second-best Christmas Day ever at the domestic box office.

[…]

After six days, "The Rise of Skywalker" has earned about $259 million domestically, and $516 million internationally, putting it well on pace to become Walt Disney Co.'s seventh billion-dollar movie released this year.
Many critics have panned the movie, but I loved every minute of it.
And Twitter, as it always does, has lit itself on fire as those who disliked the movie go to war with those who dared to like it.
(It's so weird. Twitter is a really odd place.)
Anyway, if you sign up to direct a Star Wars film, you are also signing up for massive amounts of criticism and abuse online, up to and including death threats.
J.J. Abrams, who directed "The Rise of Skywalker" (and, in 2015, "The Force Awakens") is taking that heat right now. But he has a useful perspective on it:
"Here's how I feel. Every time I read something where someone is unsupportive — which is a kind way of saying 'brutal' — I kind of go, 'Well, they've got a point.' And whenever I read someone saying, 'Oh, he's the greatest,' I'm like, 'They don't know what they're talking about.'"

"I always feel like I sympathize with the people who have the sort of more negative things to say. So it's not a pleasant thing to ever read something that's negative, but I also feel like spirited debate is not a bad thing, and certainly, you can find some of that online."
J.J. reminds us that when we set our ego aside, genuine criticism—not abuse, but constructive criticism rooted in logic and reason—gives us an opportunity to learn and grow.
---
Thanks for reading! 
Do you know someone who might enjoy The Mix Tape? 
If so, please send them to the signup page. 
See you next week!