The Mix Tape, Vol. 33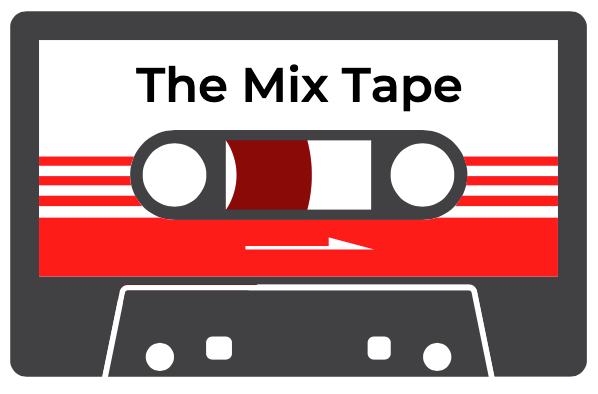 Welcome! This week: A look at New York in 1977 in "Ladies and Gentlemen, The Bronx is Burning," by Jonathan Mahler.
---
Ladies and Gentlemen, The Bronx is Burning, by Jonathan Mahler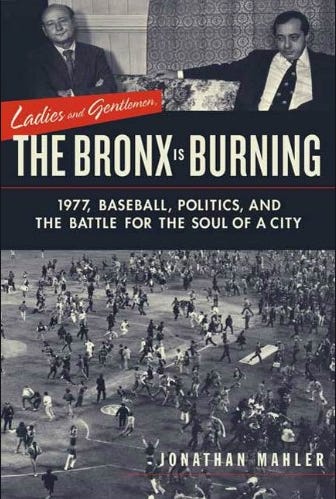 "Ladies and Gentlemen, the Bronx is Burning," is as ambitious, varied, and entertaining as the city it focuses on.
The book's title, taken from a Howard Cosell declaration made on national TV during the 1977 World Series (as an abandoned building burned nearby), is pitch-perfect, so to speak.
New York City was a tumultuous, turbulent, and facinating place—not to mention pretty dangerous—in the 1970s, and no time moreso than 1977, the year which is the focus of the book. Nineteen seventy-seven was a year New York nearly broke down, and later, broke though.
ESPN liked the book so much it created a mini-series based on the New York Yankees' '77 pennant chase.
The focus here is on so much more than just the Yankees, with a wide net cast to gather together all the components of a city in crisis:
Government social policy and budgeting

The debut of Studio 54

The emergence of punk rock

The histories and personalities of Billy Martin, George Steinbrenner, and Reggie Jackson

Urban planning theory

Terrorism

Rampant arson

The crimes, media manipulation, and eventual capture of serial killer Son of Sam

The strategy and politics of city zoning

The gentrification of SoHo

The blackout riots, looting, and police response to the New York City blackout of July 13, 1977

The electrical grid strategy of New York City

The 1977 mayoral race, candidates, and strategies 

Highway planning
Even that list is incomplete. The book covers a lot of ground.
I won't summarize the book here—there are too many topics. But I will share some insights from some of the major events within, and below the post you will find my Kindle highlights from the book itself.
The 1977 New York City Democratic Mayoral Primary
Amidst crime and financial disaster, four candidates, including Ed Koch, Mario Cuomo, Bella Abzug and incumbent mayor Abraham Beame, squared off in a bloody Democratic primary full of sniping, back-biting, and backroom deals.
But as vicious as the race was, I'm struck by the tone and content of Koch's TV commercials.
Koch was seen as the most confrontational candidate, but these ads are so vanilla they would be ignored today:
Amazingly, Koch won the democratic primary running against the teachers and police unions, and taking a pro-death penalty stance. He sounds very conservative in these ads, which ran during the primary where he was trying to lure only left-leaning voters.
Koch went on to be mayor New York until the end of 1989.
George vs Billy vs Reggie
In 1977, Billy Martin was in the first of his four runs as Yankees manager, and many days it looked like he wouldn't keep his job for the entire season. Martin, as mercurial as any manager who ever led a team, was sandwiched between his combustable and jealous owner, George Steinbrenner, and his preening and insecure superstar—who was new to town—Reggie Jackson.
Together, the three of them barked at each other in the press and in person, and schemed behind each other's backs.
Famously, Martin and Jackson nearly came to blows in the Boston dugout after Martin pulled Jackson mid-inning following a Jackson flub in right field:
Martin not only kept his job after this incident, but the team rallied. The Yankees came from behind in the standings to overtake the Red Sox in the division and bested Kansas City in the ALCS before beating the Dodgers in the World Series.
The blackout of July 13, 1977
It's not easy to make one of the world's largest cities go dark, requiring a potent mix of circumstance and bad decisions:
A lengthy heatwave, pushing temperatures over 100, while tempers and demands on the power grid climbed right along with it.

Clean-air regulations pushed power plans well outside the city limits.

A tenuous feeder system bringing power into the city from those plants with too few lines and little redundancy.

Some lightning, taking out feeder lines.

Poorly maintained emergency generators.

A board operator who froze, failing to disconnect subsections of the city, which would have reduced the overall power draw into the city grid and prevented total failure.
The result was disastrous: the entire city went dark. Every borough.
Mass looting and fires followed in certain areas, particularly in the South Bronx and a subsection of Brooklyn called Bushwick.
As a result, an area of poverty and high unemployment destroyed itself—creating worse poverty and unemployment. Seven years later, the area was still rebuilding, as detailed in this 1984 New York Times article:
A tangible recovery is building in the bombed out heart of the neighborhood around St. Barbara's. It can be traced to construction of what amounts to a small village of public housing units, ordered by Mayor Koch at a cost of $58 million, and to a revival in a private real- estate market that has spilled over from the adjoining neighborhood of Ridgewood, Queens.

Little noticed by those outside Bushwick, this insular community has, along with sections of the South Bronx and some other parts of Brooklyn, become an example of a downtrodden community, seemingly at the end of its line, that for all its problems has quietly managed to negotiate an upturn.

[…]

''There has been a definite turnaround and it's going on just all over the place,'' said Elliott Yablon, director of the Bushwick Neighborhood Preservation Office of the city's Department of Housing Preservation and Development. ''I think it's own momentum is going to carry it through. If we walked away, the recovery might not be as planned, but it would happen anyway.''
Bushwick's slow recovery was a microcosm of the entire city's resurgence.
In 1977, New York seemed to be on the brink of collapse. And while many people thought New York was in its death throes, it was really going through birthing pains.
The restoration—of Bushwick, of law and order, and of the cities finances—swirled into a renaissance for New York, the tailwinds of which still carry the city forward today.
Just another example that it truly is darkest—pitch black, even—before the dawn.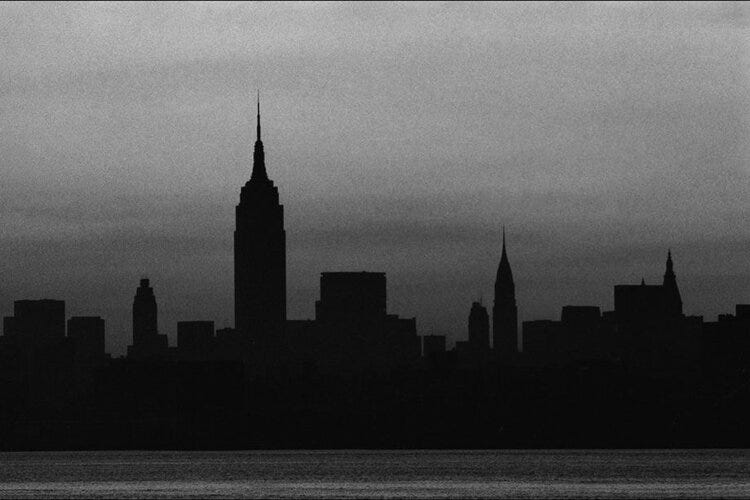 Photo by Allan Tannenbaum/Getty Images
See chapter-by-chapter Kindle highlights here.
---
Thanks for reading! 
Do you know someone who might enjoy The Mix Tape? 
If so, please send them to the signup page. 
See you next week!