Discover more from Steady Beats | Matt Tillotson
At midlife, big change happens with small and steady beats.
Over 2,000 subscribers
The Mix Tape, Vol. 5

This newsletter feels like an old-time mix tape: a blend of things I found interesting, weaved together in a way that's (hopefully) interesting.
So thanks for putting up with my experiments, including changing the name.
(At least you won't ever have to rewind this mix tape with a pencil.)
Anyway, let's lock it in for Volume 5.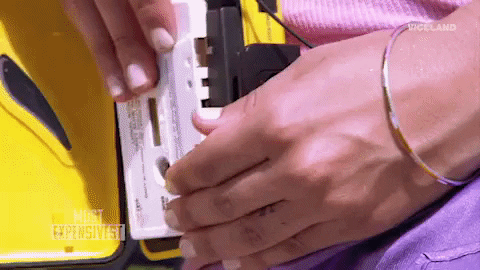 ---
Reading
Sticky Fingers is the biography of Jann Wenner, founder of Rolling Stone magazine. Wenner was complicated, ambitious, and tumultuous, and so is this 520-page book.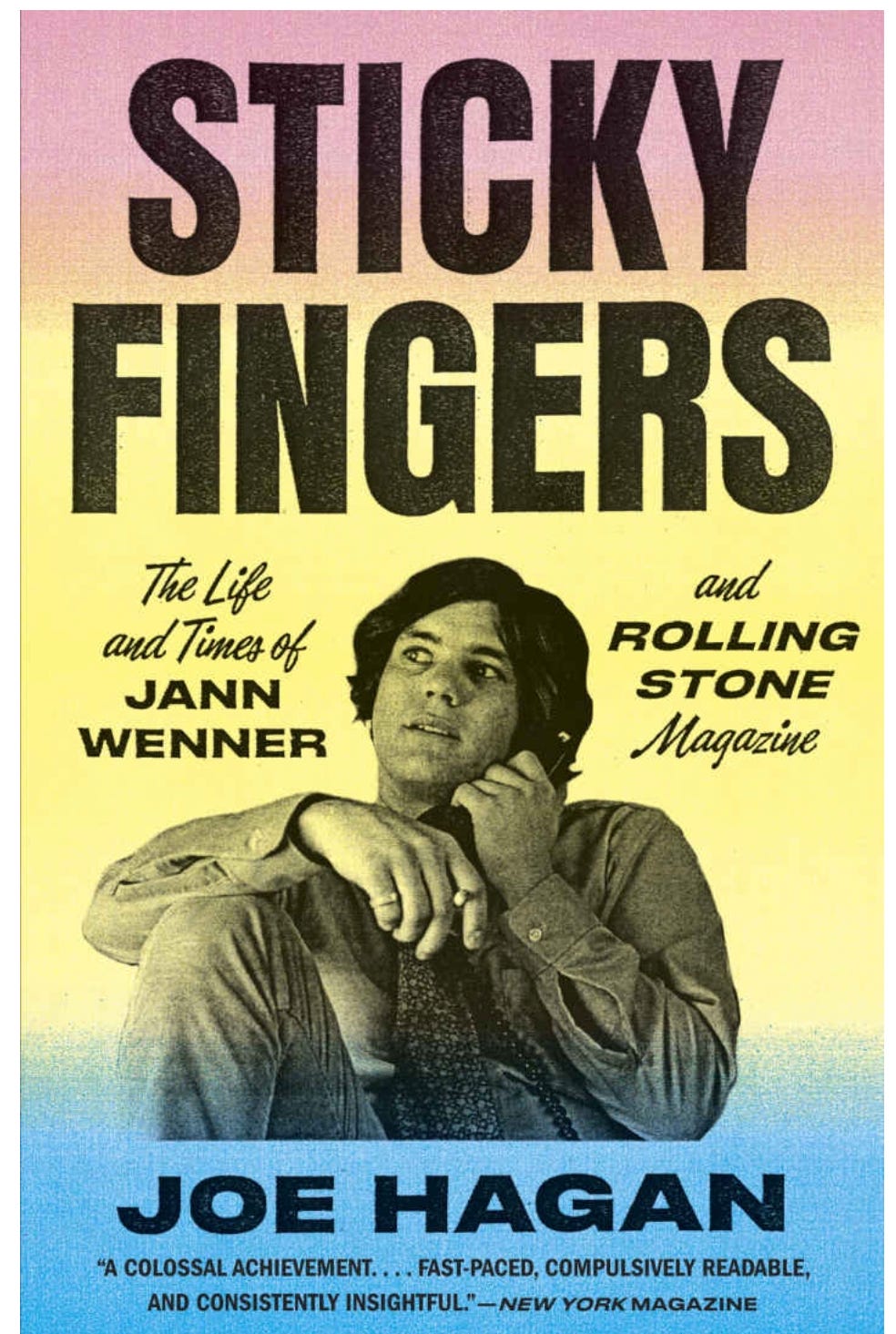 He wrestled with many demons—mostly self-inflicted—and yet still managed to create one of the most culturally impactful media entities of the 20th century, building friendships and infuriating the biggest names in the music industry.
As a sub-plot, I was fascinated by the story of the Altamont Speedway Free Festival, a disastrous event which served as a turning point for the social movement of the 1960s and Rolling Stone Magazine itself.
On December 6, 1969, 300,000 people attended the free event, featuring acts like Santana and Jefferson Airplane. The Rolling Stones, spearheading the event as a response to criticism over high ticket prices, were the headline act.
A nice idea—which ended in chaos, violence, and four deaths.
Attendee Meredith Hunter was murdered near the stage by the Hell's Angels while The Stones played.
The concert shattered the illusion of the 60's counter-culture dream. It also marked the beginning of Rolling Stone Magazine as a true journalistic entity. The magazine, despite its relationships with the music industry and The Stones themselves, covered the event with eloquence and brutal honesty:
The 300,000 anonymous bodies huddled together on the little dirt hills were indeed an instant city — a decaying urban slum complete with its own air pollution. By the time the Stones finally came on, dozens of garbage fires had been set all over the place. Flickering silhouettes of people trying to find warmth around the blazing trash reminded one of the medieval paintings of tortured souls in the Dance of Death. The stench of the smoke from tens of thousands of potato chip packages and half-eaten sandwiches brought vomiting to many. It was in this atmosphere that Mick sang his song about how groovy it is to be Satan. Never has it been sung in a more appropriate setting.
Rolling Stone's online archive of its Altamont coverage is fascinating, and so is Sticky Fingers.
---
Drew Dickson, CIO at Albert Capital, wrote about persistence in the face of depression, and how a small random act of kindness can create a whole new life trajectory. He tells the story of his son:
Max is doing great now.  He's been working full-time, got super healthy, started running marathons, and is now on the good path.  These were his choices, they had to be, and he did it.  But it almost didn't turn out this way.  Kenny made sure he stayed on that path.
Read the whole thing.
---
Having written for tech companies, I'm painfully aware of the industry's love of hyperbole and buzzwords. Few other industries covey less while saying more.
But the privacy policy for the Guardian Firewall product is a lesson in clear messaging and customer trust:
For the lifetime of our company, Guardian Firewall will utilize a simple tried-and-true business model: Accepting currency for a product that people find valuable. Full stop. We will never track our users. We will never collect personal information about our users. We consider user data to be a liability. Each and every technical design decision is built around that concept.
"We consider user data to be a liability," is a simple, powerful, and unique statement.
H/T: Daring Fireball.
---
Well, duh:
Let me stop here to emphasize a truth that has gone unsaid for too long: At its peak, Hootie & the Blowfish was a genuinely excellent band. Earthen, soothing, a little ragged. And also deft, flexible and unflashily skilled. It splendidly blended the Southern college rock of the late 1980s (the dBs, R.E.M.) with shades of vintage soul, bluegrass, blues and more, rendering it all with omnivorous-bar-band acuity.
Nice to see the critics come around, 25 years later.
Speaking of 25 years ago, Hootie and the Blowfish were part of a legendary night in East Lansing, Michigan, following a show in 1995.
After the concert, Rick's American Cafe (a local bar) randomly served as host to Hootie, the Stanley Cup, and Tiger Woods: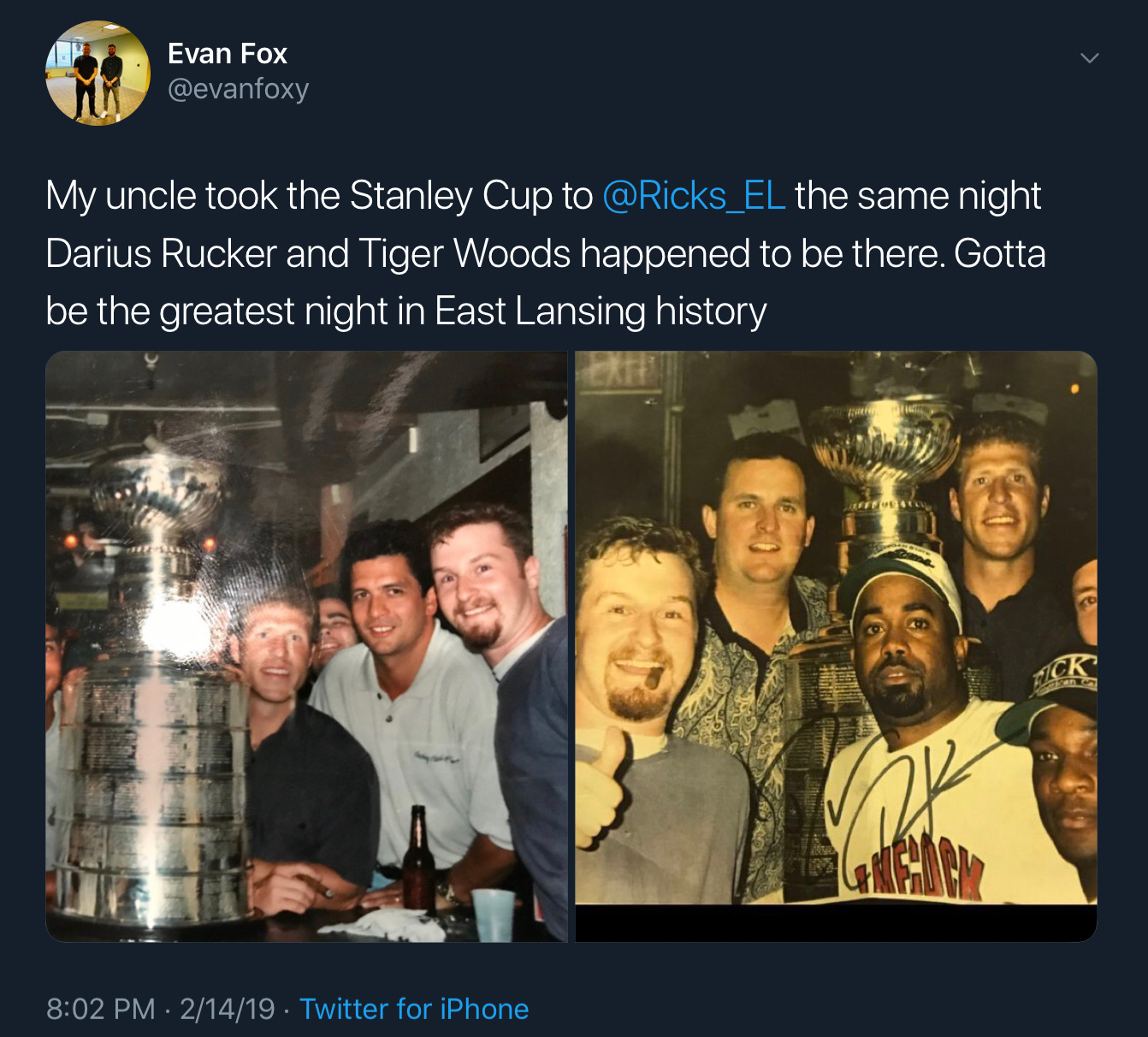 Darius Rucker remembers the night:
We'd play a show and then we'd go out to a bar called Rick's American Café. We were sitting at the bar and I look over the bar and I'm like, 'Isn't that that Tiger Woods kid that everybody's talking about?' He's 18. And he was going to Stanford and (our bass player Dean Felber) says like, 'Yeah.' So I went over and I said, 'Are you Tiger Woods?' and he says, 'Are you the guy from Hootie and the Blowfish?' and I sat down and we just hung out all night.

"But the thing that tops the story, I'm sitting there with this kid Tiger Woods, 18, and we're sitting there and then somebody comes in with the Stanley Cup. It was his week. Here I am in the bar with Tiger Woods and sitting on the bar was the frigging Stanley Cup. That was a crazy night."
The guy with the Stanley Cup is current Michigan State hockey coach Danton Cole, who played for the New Jersey Devils at the time.
(No sign of the Stanley Cup in Tampa this year, sadly, but I did enjoy seeing Hootie in Tampa a few weeks ago.)
---
Listening
Speaking of successful-but-critically-assailed acts from the 90s, Rob Thomas has a new album.
On "Chip Tooth Smile," Thomas looks at middle age with a shoulder shrug as if to say, "We're still alive, Gen X, and it beats the alternative."
From the first single "One Less Day":
I'm not afraid of getting older,
I'm one less day from dying young. 

[...]

And I've seen my friends
Fall away before their time
And I've been afraid that I may follow in their light
So I drink and love and whisper all the things I know are right
Someday, I will leave this world, by maybe not tonight
In 1998, peering through many layers of eyeliner, Thomas asked, "Straight up, what did you hope to learn about here?"
Today, he still isn't sure.
More importantly, the question doesn't matter as much as getting another day to wonder about it.
Thomas recently said in a Billboard interview:
"Being a part of that fabric, of music out in the world — that, to me, is a legacy. People are still listening to your music, 20 years later. That's more than most people could even want to ask for."
Thomas seems grateful for his place in the world, content to be alive.
He's prodding us to do the same.
---
Me, at nearly every concert I've been to the last few years: "Wow, this is a young crowd."
Me, with a recent epiphany: "Wait, I'm just old no matter where I go." 😳
---
Thanks for reading! Feel free to reach out anytime.