Discover more from Steady Beats | Matt Tillotson
At midlife, big change happens with small and steady beats.
Over 2,000 subscribers
The Mix Tape, Vol. 6
The Fourth of July is upon us, so let's light it up with Volume Six.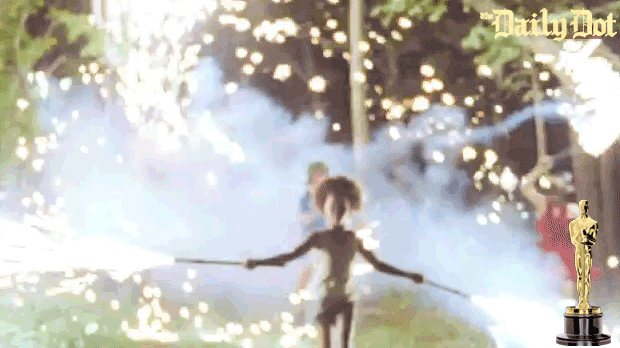 ---
Reading
Frenetic Fast Food
Fast food marketing is totally nuts.
It's like the frenetic pace of store ops bleeds over to the marketing team, which fires ideas hot off the grill just to see what sticks.
Off-beat marketing has a long history in fast food. Remember when, back in the dark ages of 1984, Wendy's took America by storm with its "Where's The Beef" campaign?
(Just a thought—with rapidly advancing CGI, can we be far off from a virtual Clara Peller slinging Wendy's burgers again? After all, Star Wars gave us Grand Moff Tarkin 20 years after Peter Kushing's death.)
Anyway, fast-food marketing oddities are at a whole new level today. Let me introduce you to the meat carrot, or "marrot", courtesy of Arby's:
Yes, Arby's (they of the staunch refusal to have anything but the meats) is working on the marrot, a test kitchen experiment/brazen slight against God that isn't yet planned for public release, but basically has to be now that we, and by proxy you, are aware of it. The marrot "contains vitamin content found in a raw vegetable" according to a press release, and exists as a perfect inverse to Beyond Meat, Impossible Burgers, and the like. Where those products strive to replace animal products in order to offer dietary alternatives, Arby's is making a carrot out of turkey, because fuck you, that's why.

Arby's chief marketing officer Jim Taylor explains the process: "[Arby's brand executive chef Neville Craw] cut a whole turkey breast into the shape of a carrot, sous vide the meat for one hour, then rolled it in a special carrot marinade and a brûlée with maple syrup powder. He then oven roasted the carrot-shaped turkey for an additional hour before topping it off with a fresh sprig of parsley to give it the full carrot effect." Really savor that one for a minute: the full carrot effect.
This is what marketing folks call "on brand."
The marrot is unavailable for purchase, probably due to its nuclear instability or something.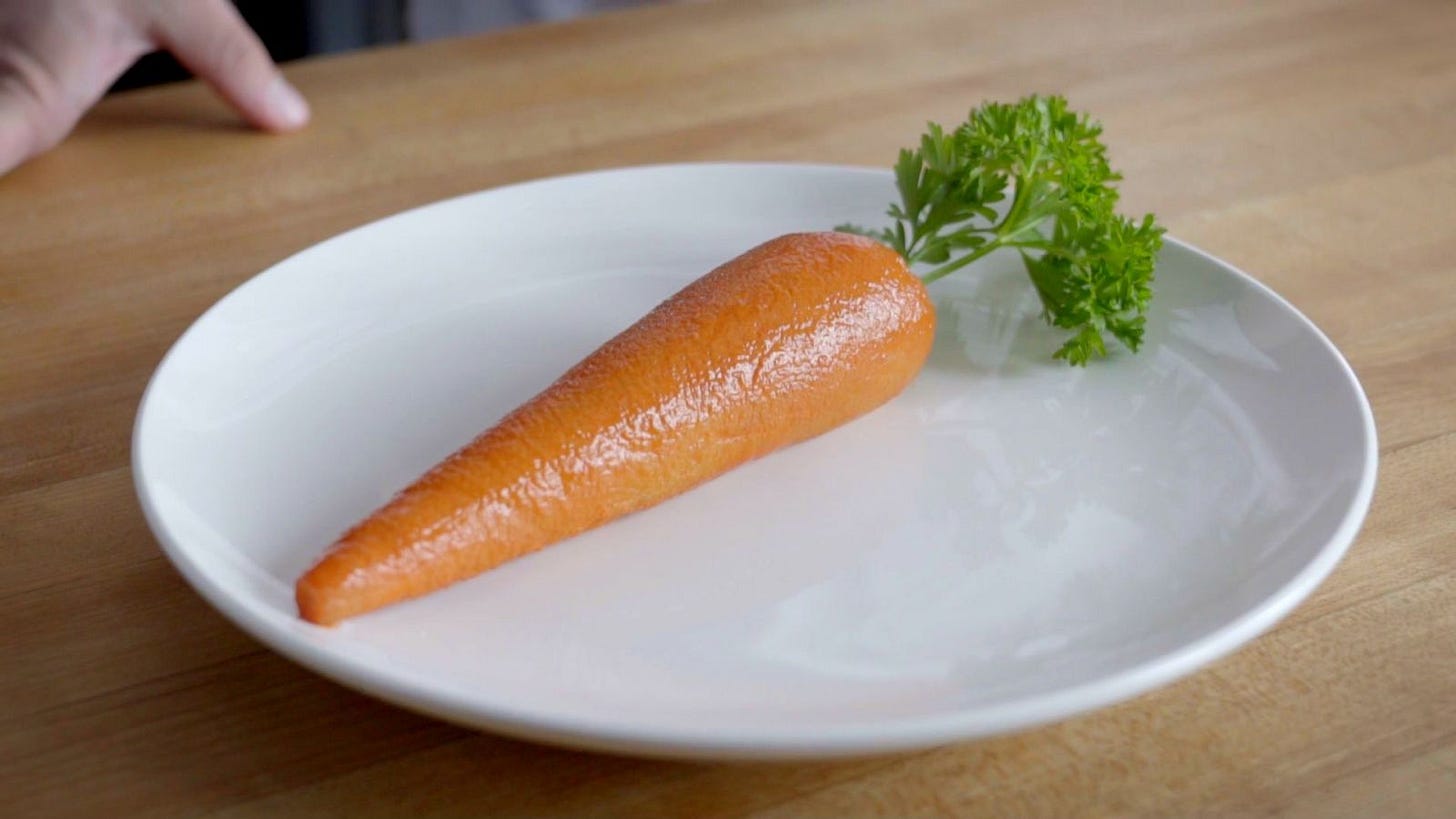 After eating that, you're going to need a rest (if not a hospital visit), so why not check into the Taco Bell Hotel?
(Oh, too late—reservations sold out in two minutes):
Guests will stay in rooms decorated wall-to-wall and floor-to-ceiling with Taco Bell artwork, wake up to a special Taco Bell breakfast delivered to their door and float in the pool on a giant Taco Bell sauce packet raft.
"The Bell: The Taco Bell Hotel" is a takeover of the V Hotel in Palm Springs.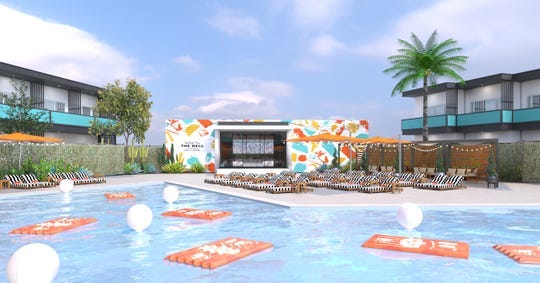 The strategy for all this weird stuff? Doing anything possible to stay in a consumer's choice set.
Eric Schlosser, author of Fast Food Nation, says one in four Americans eats at a fast food restaurant each day, and that 70% of those visits are impulse purchases:
But we buy our food on impulse, and we buy foods for our kids on impulse.
In that buying environment, restaurants must do whatever they can (legally!) to stay in a consumer's category recall—an increasingly difficult proposition in today's noisy media environment.
As a result, we get meat carrots and Taco Bell Hotels. The assault on the American digestive process continues unabated.
---
The Walkman is 40 years old, which makes me 143
Yes, Sony's Walkman turned 40:
In early 1979, Sony chairman Akio Morita summoned apprehensive young, engineers, planners and publicity people to a meeting to show off a promising prototype,  a modified version of a compact cassette recorder used by journalists known as the Sony Pressman.

"This is the product that will satisfy those young people who want to listen to music all day," Morita told the group. "They'll take it everywhere with them, and…if we put a playback-only headphone stereo like this on the market, it'll be a hit."

[…]

Despite skeptics who predicted this expensive device wouldn't sell because it didn't record, that first Walkman became a blockbuster hit, selling 50,000 devices in two months. But more than that, it changed the way people listened to music privately and portably. Remember, carrying around your favorite tunes had been a back-breaking endeavor that spilled over to everyone around you. This was the era when boomboxes were big -- literally. 
The article talks about how Sony—well-positioned to compete with Apple's iPod—blew it due to a siloed corporate structure which kept the electronics and content teams separate.
Nice find by friend, former boss, and reader(!) Ken Evans.
---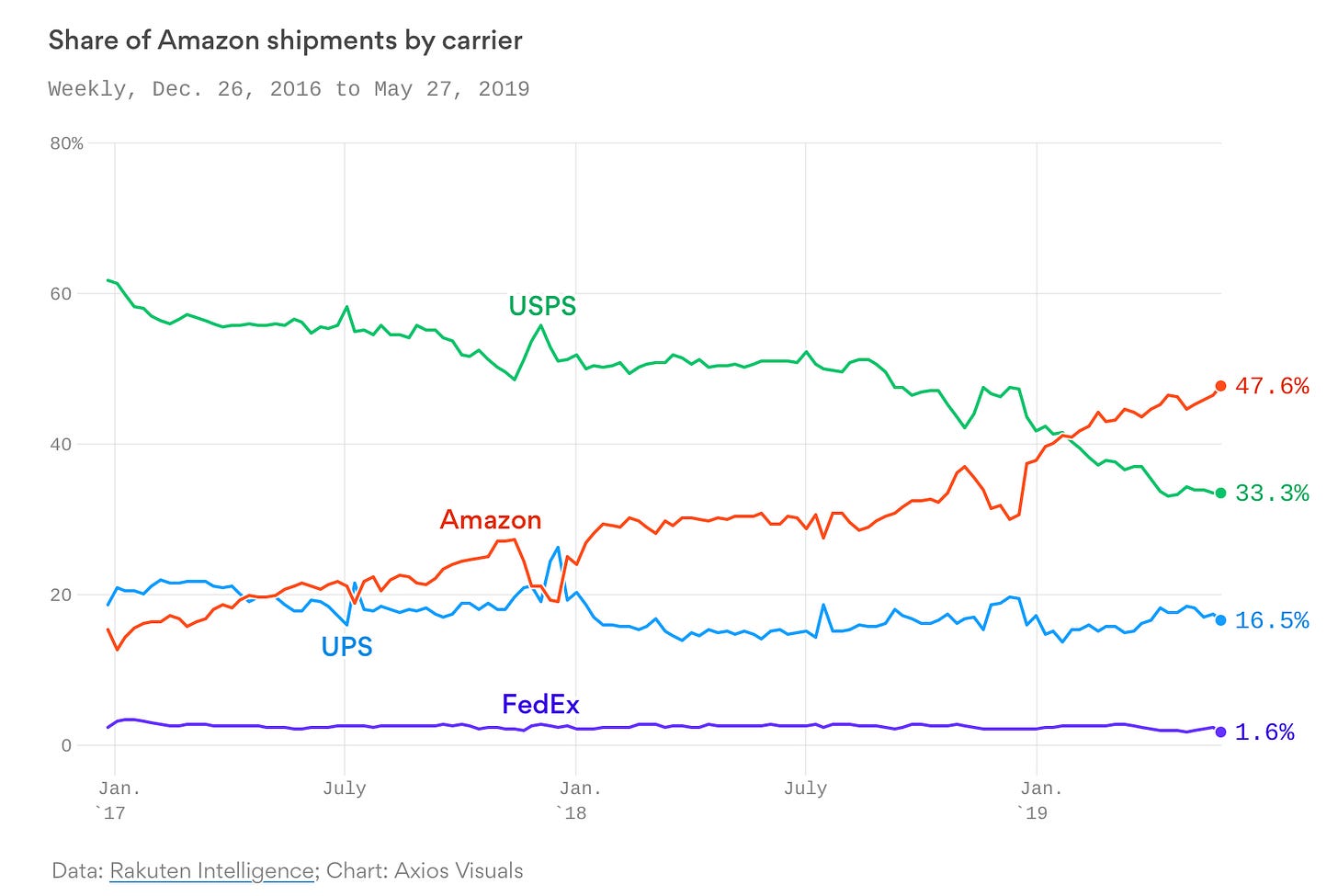 Why it matters: While the world has fixated on Amazon's moves into books, groceries and cloud computing, perhaps most formidable of all has been its swift break into a different business — package delivery. 

In a relatively short time, Amazon has built up a logistics arm that is already turning this industry worth many billions on its head.

"Amazon is about 40% of all e-commerce. If they're handling half of their own shipments, that's 20% of the whole market," Alex Pellas, a logistics expert at market research firm Rakuten Intelligence, says. "That's huge."
That's a blazing fast vertical integration.
Of course, once you have "built the railroad," you can resell excess logistical capacity to other companies—or your customers.
Why couldn't Amazon offer a door-to-door UPS-like consumer package delivery service? Packages to and from your doorstep. Maybe even by drone.
---
Watching
The Stones Keep Rolling
Last week, I blathered on about the disastrous Altamont Free Festival, and neglected to share a link to the excellent documentary Gimme Shelter.
Gimme Shelter, regarded as one of the best rock documentaries ever, was supposed to focus on The Rolling Stones' 1969 tour. But after the events at Altamont, the documentary shifted to the ragged planning of, and chaotic events at, the free concert.
Gimme Shelter is worth a watch on Amazon Prime Video.
By the way, The Stones are on tour again, and it seems to be going well. The tour was delayed after Mick Jagger had surgery to replace a valve in his heart, and this was him just a few weeks after the procedure: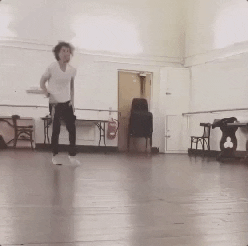 Yeah, he's 75 years old. I need to watch this every time I want to skip a workout.
---
As always, thanks for reading, and have a happy and safe Fourth of July. 🍻