Discover more from Steady Beats | Matt Tillotson
At midlife, big change happens with small and steady beats.
Over 2,000 subscribers
Writing Matters, No. 2
Your first newsletter is not like your first love: It's best to forget about it and move on. So without delay, we move on to edition two.
---
Writing
Most business books offer one or two good ideas and more filler than episode eight of your favorite Netflix series.
(Seriously, I really like Ozark. But you can feel the writers running out the clock before the season finale.)
In contrast, Never Split the Difference, by Chris Voss, is one of the best business books I've ever read. It's loaded with useful strategies and tactics for negotiating—most of which I haven't seen before.
Voss, a former FBI hostage negotiator, believes business negotiations are primarily exercises in human emotion, and he provides a robust framework for success from that perspective.
I created a summary attempting to do the book justice (warning: includes Die Hard references), and if the summary seems helpful, I recommend reading the entire book.
---
Reading
Island of the Lost follows the exploits of two separate crews shipwrecked on the Auckland Islands, south of New Zealand, in 1864. Although the ships—the Grafton and the Invercauld—wrecked only a few months apart, the two crews remained unaware of each other and fared very differently. A few takeaways:
Clubbing, cooking, and subsisting on seals is even less pleasant than it sounds.

Under good leadership, human beings can be insanely resourceful. One crew, thanks to its captain's guidance, coalesced and survived despite scarce and unappetizing food, unrelentingly raw weather, and very few building materials. MacGuyver had nothing on these guys, who built a home, made shoes, created a forge to shape metal, and eventually built a new ship for escape. And the second wrecked crew? The captain quickly became despondent, the crew fractured, and nearly all the men died as a result.

Publicity doesn't automatically go to the most deserving. After rescue, guess which of the two crew captains garnered the most fame?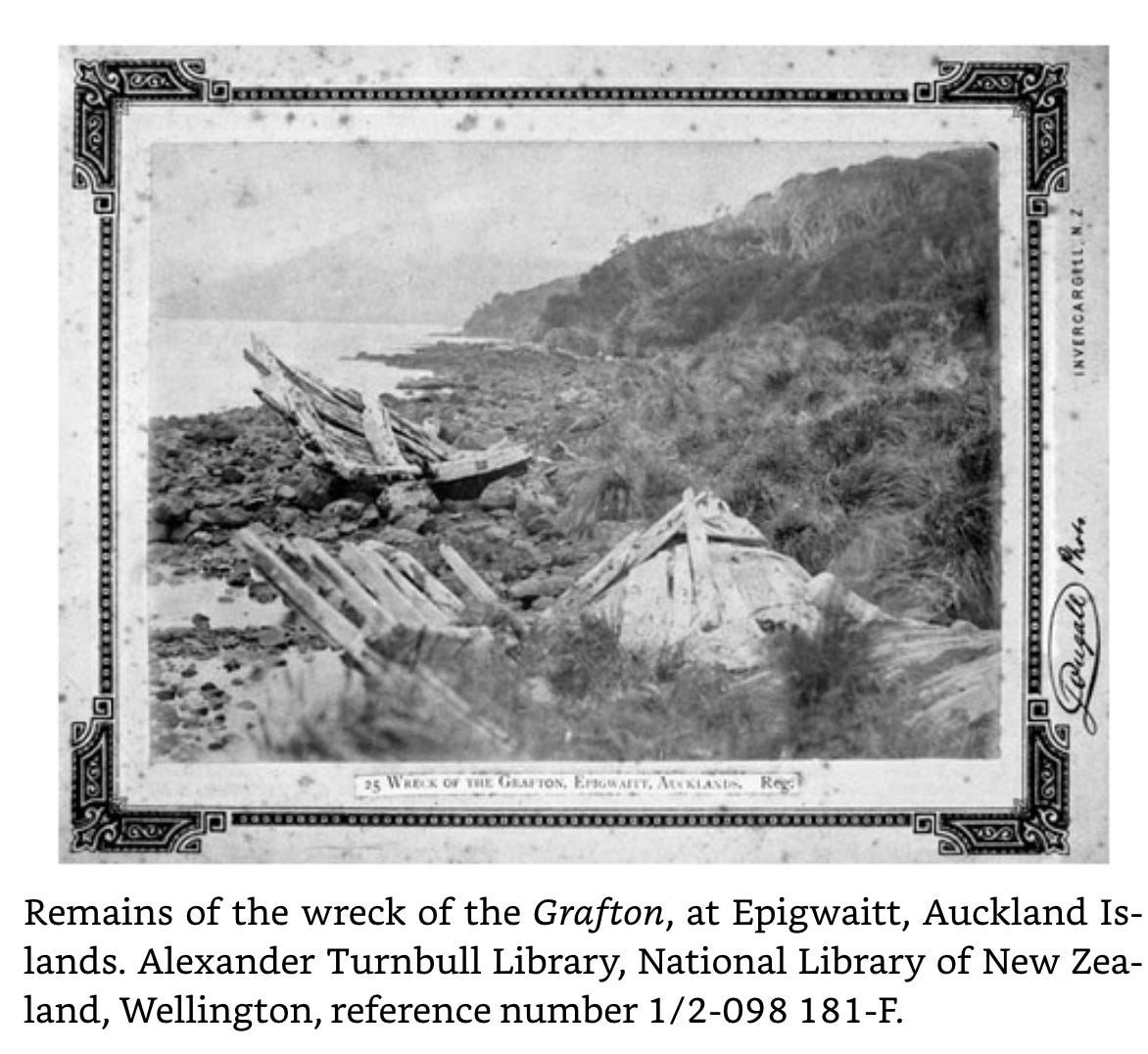 Although the book has too much technical detail (and seal hunting strategy!) for my taste, it is still an insightful read on mankind's ability to prevail in the face of overwhelming odds, isolation, and despair.
---
Speaking of books, here are 75 summer reading suggestions from the New York Times.
---
The fourth of June marked the 30th anniversary of the Tiananmen Square massacre, and Jiang Lin, a former People's Liberation Army journalist, refuses to stay quiet about what she witnessed:
The brutality of that night left her shellshocked.

"It felt like watching my own mother being raped," she said. "It was unbearable."

[…]

Ms. Jiang said she believed that China's stability and prosperity would be fragile as long as the party did not atone for the bloodshed.

"All this is built on sand. There's no solid foundation," she said. "If you can deny that people were killed, any lie is possible."
Lin's bravery is to be admired, and makes Twitter's recent purge of accounts critical of China look all the worse.
---
Eating
BBQ ribs, perfected
I will use "we" here to describe the collective effort in the prep and cooking process, but understand the "we" equation:
Nikki: 95% of effort.
Matt: 5% of effort, but roughly 90% of the eating, so it evens out.
The key ingredients:
Ribs (I mean, obviously)

Dry rub: Bad Byron's Butt Rub (I don't brand these things. I just use them.)

Sauce: The proprietary concoction from Michelbob's of Marco Island and Naples, Florida. The sauce tastes like a Carolina and KC mix—sweet, but with some mustard overtones. It's outstanding, and you can buy it online.
The process:
Cover the ribs with the dry rub and refrigerate (in this case, it was an unintentional 48 hours, as plans changed, but shoot for at least eight hours).

Cook the ribs all day in a roaster without sauce, on a rack, and with chicken broth in the bottom for steam.

Let the ribs sit until they are cool to the touch (about an hour).

Cover in sauce and grill on a tin perforated sheet on medium heat for 10-15 minutes. (This was my part! It was exhausting—I could hardly lift my wine glass.)

The ribs came out super moist and the meat held to the bone. The grilling adds a touch of smoke flavor and caramelizes the sauce to add a crisp finish. Magnificent.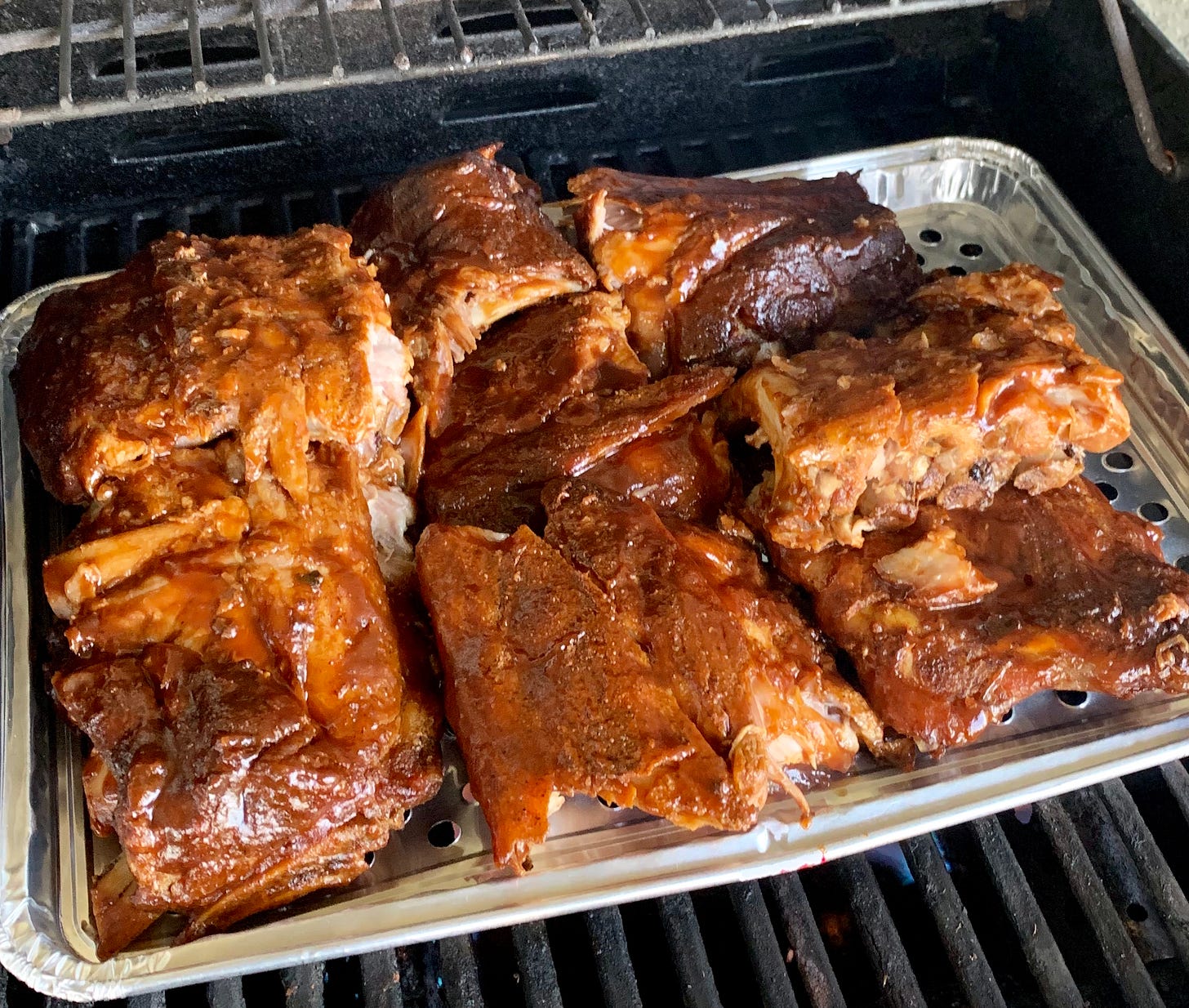 ---
Listening
Morning Brew, a daily email distilling business news for a young professional audience, was started at the University of Michigan by undergrad Austin Rief. Today, the service has over one million subscribers. David Perell interviews Rief about growth, content strategy, and creating a successful referral program:
Align customer referral incentives to the product or service. (e.g., PayPal deposited $5 into user accounts for each referral, encouraging further use.) Morning Brew unlocks access to a special newsletter after a reader gives out three referrals.

Create a product people want to share. Morning Brew has wit and a unique, informal voice while discussing dry business topics. It's smart and fun.

Referrals are social signals sent by the sharer about the sharer. So have a product that, in referring it, makes the referrer look good in some way: smart, hip, or insightful, for example.
If, like me, you are a nerd/fan of sportswriting, you will enjoy this long conversation between Clay Travis and Jason Whitlock. Whitlock, a TV host on Fox Sports 1, enjoyed a meteoric rise as a sports writer. In just five years, Whitlock went from a newbie role at the Charlotte Observer to the lead columnist role at the Kansas City Observer. Later, he went on to ESPN and AOL before Fox Sports. Travis and Whitlock have an excellent discussion about Whitlock's career, the newspaper business, and sports journalism.
Yes, that Howard Jones, who strung together 15 top-40 hits in the 1980s. Jones is still touring and writing music today. "The One to Love You" is a single from his new album "Transform," and the song's 80s-style synth would be right at home playing over a montage in The Breakfast Club.
(By the way, Jones is touring with Men Without Hats. "Safety Dance" and "Life in One Day?" I'm in.)
---
Speaking of concerts, we will be at the Hootie + The Blowfish show in Tampa this weekend. See ya there?
---
Thanks for reading—I'm extremely grateful to all of you who subscribed.