Discover more from Steady Beats | Matt Tillotson
At midlife, big change happens with small and steady beats.
Over 2,000 subscribers
Writing Matters, No. 3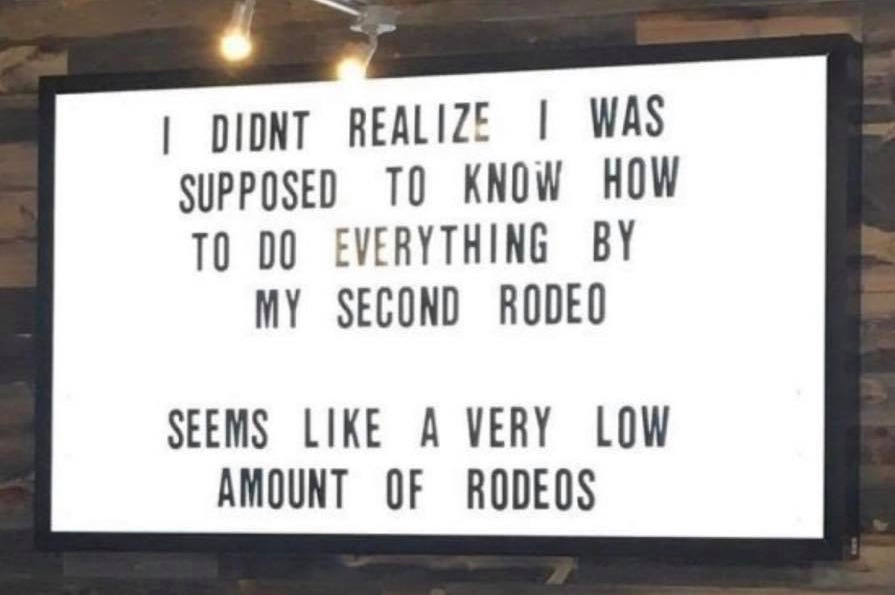 Saddle up: we're on our third rodeo.
---
Reading
Apple is placing a big stake in the ground around user privacy:
Apple's truly transforming into a privacy-as-a-service company, which shows in the way that it's implementing both the new single sign-on account service, as well as its camera and location services updates in iOS 13.
Things will get interesting:
Apple's new service — an easy way to log into the apps and websites you use—is aimed right at similar offerings from Facebook and Google.

The differentiator: Apple's service uses disposable email addresses to keep you anonymous. Facebook and Google use their sign-on services to collect your data. (More here, if you're interested.)

It's not that Apple is of higher moral fiber than Google or Facebook, but Apple is uniquely positioned to own and deliver on privacy because its business relies on consumer revenue rather than ad dollars.

🤔… Actually, Apple is of higher moral fiber than Facebook. It's a low bar.

Privacy is antithetical to the business models of Google and Facebook. Sure, they can pay lip service to privacy, but ultimately must Hoover up your data to effectively sell you to advertisers.

Apple can use privacy protection to help maintain premium prices on its hardware and services.
Bigger picture: With illegal data theft and the incessant "legal" corporate siphoning of our data, is Apple showing us a new market position—a privacy premium—that is applicable across many products and services?
---
HBO's Chernobyl is really well done. It's also horrifying. The miniseries chronicles the 1986 meltdown of the Soviet nuclear reactor, and the physical heroism and political cowardice that shaped the disaster's aftermath.
In a Vox interview, writer/creator Craig Mazin offers insight to writers and marketers about the power—and proliferation—of storytelling:
I'm not sure human beings can really understand or learn about the world around them, without [narratives].

[…]

everybody has caught on. So politics is now nothing but weaponized narrative. That's all it is.

[…]

advertising figured out how to use narrative to sell you things you didn't need … The De Beers Company invented the diamond ring as part of an advertising campaign in the 1920s. Diamonds were kind of s***** and useless before then; nobody cared about them, and they're not even rare.
Mazin puts a bow on his observations:
Narrative has taken over every aspect of our lives. We don't get sold products anymore; we get sold stories.
It's true.
Mazin created a five-part mini-podcast to discuss what was "real" and what was embellished in "Chernobyl" to serve the story. Some Russians praised the show's accuracy. Others are creating an alternative series blaming the CIA for the disaster.
---
The fear disconnect
Speaking of storytelling, this chart shows that the stories media covers—and thus signals we should be worry about—bear little correlation to what actually threatens us.
Google searches show we're more attuned to real threats than what the media serves us, but heart disease—which causes 30% of deaths—gets far too little attention from anyone:
---
Building your own pool
The Big Ten conference made history last week, naming Kevin Warren as the first African-American commissioner of a "Power Five" conference.
Warren, the COO of the Minnesota Vikings, takes over as commish next year. In his introductory press conference, he told a great story about overcoming the odds:
He was seriously injured when hit by a car while riding his bike at age 11. He was put into a body cast after the accident and told that his chances of walking again were "not good" and that swimming would be the best form of recovery from the accident.

Warren then wanted his parents to put a pool in the back yard. And when his parents told him they couldn't afford the pool, Warren said he wanted some of the money his family received in the settlement from the accident to pay for the pool.

"I told my parents, I said 'Didn't I get a $30,000 settlement from the accident? They said yes. I said I want to pay for the pool in our back yard. So I spent $11,000 to build a pool in our back yard. And I swam in the morning. I swam after school. I swam at night ... We swam and played and worked out so much in that pool that six years after my accident I was able to lace up some red Nike shoes and walk on the court at the Palestra in Philadelphia as a Division I NCAA student-athlete."
Sometimes, you have to build your own pool. Amazing.
---
This man should be jailed.
---
Mobility in the United States has fallen to record lows.
1985: nearly 20 percent of Americans had changed their residence within the preceding 12 months

2018: fewer than ten percent had, the lowest level since 1948, when the Census Bureau first started tracking mobility.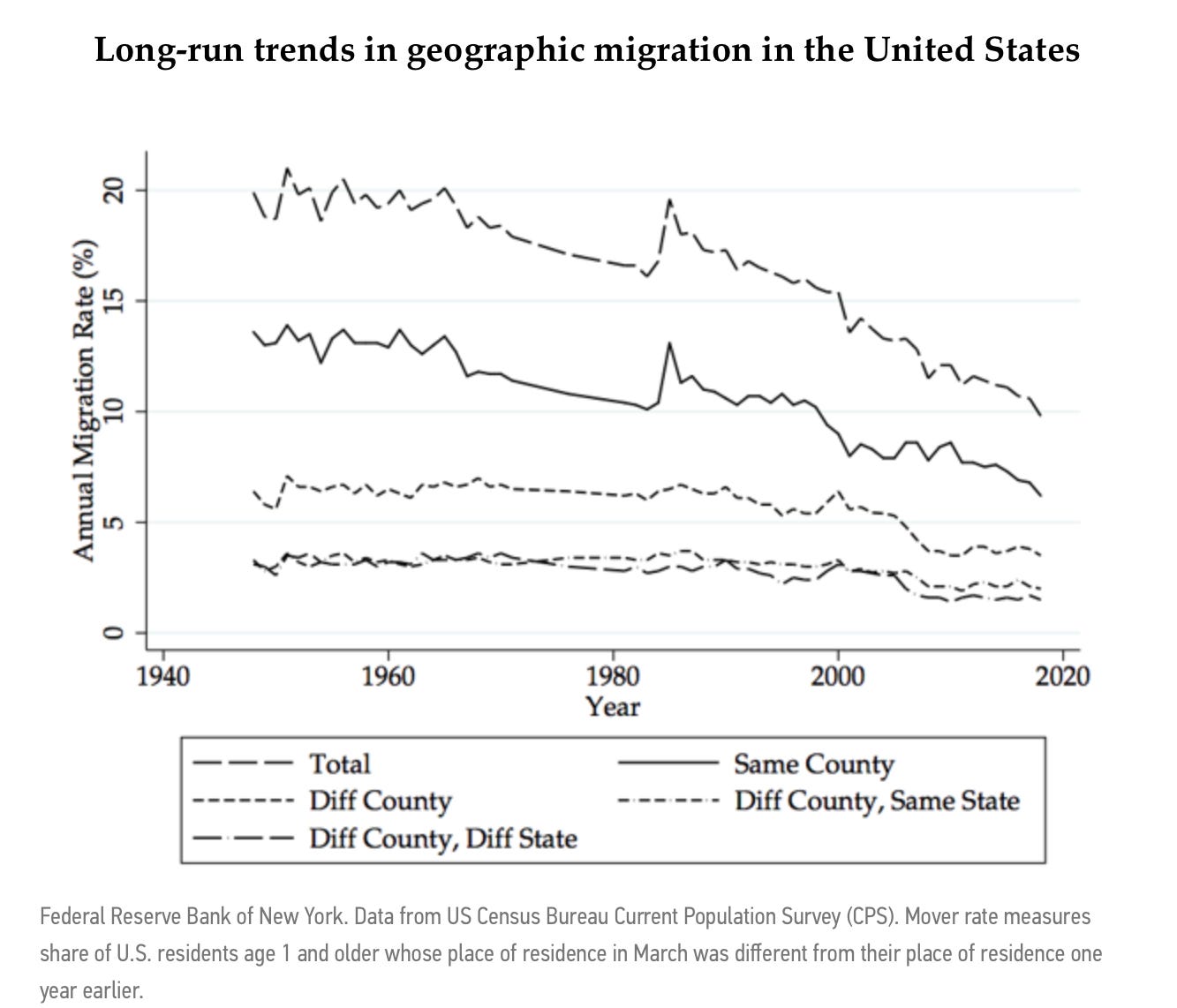 Why?
The initial explanations are economic (prohibitive housing costs, job homogeneity across the country).
But according to a Federal Bank of New York survey, psychological factors are also a strong inhibitor:
47 percent of the respondents identified themselves as "rooted"—tied to family and community and not interested in moving.

15 percent identified as "stuck," for economic reasons.

Just 38 percent of respondents say they are mobile with the resources, ability, and inclination to make a move.
My wild and unscientific postulation: economics play a big role, but we're afraid of everything now, and have lost our sense of adventure.
---
Last week, I mistakenly referred to the 80's pop band "Men Without Hats," as "Men With Hats." I regret the error, and rest assured, the Men remain unhatted.
---
Listening
Echo in the Canyon
Jacob Dylan, son of Bob and leader of The Wallflowers, has a new documentary called Echo in the Canyon, chronicling the birth of the "California sound"—the fusion of rock and folk—berthed in the Laurel Canyon area of Los Angeles in the 1960s.
Crosby, Stills, Nash, and Young, The Beach Boys, The Byrds, Tom Petty, The Eagles, Stevie Nicks, Lindsey Buckingham, and Jackson Browne are just a few of the names with ties to Laurel Canyon.
Dylan's accompanying album covers early songs of the era. He teams up with Beck, Eric Clapton, and others including Norah Jones, with whom he recorded a slower, more melancholy version of The Association's Never My Love.
Rolling Stone's Brian Hiatt discusses the documentary with Dylan on the Music Now podcast.
---
Thanks for reading—I truly appreciate it. Your suggestions, comments—even open rebuttals!—are always welcome.
Long live the em dash.