Discover more from Steady Beats | Matt Tillotson
At midlife, big change happens with small and steady beats.
Over 2,000 subscribers
Writing Matters, Vol. 4: What a trip
This week, something a little different: a travel essay.
A long, strange trip
Every year, our family makes a summer sojourn from Florida to the Michigan homeland. We venture north, celebrating family and America's independence—even as we curse mosquitos and black flies the size of Pomeranians.
Normally, Nikki captains this trip by herself. This year, with no employment to encumber my wandering, I drove up with Nikki, teen and tween Maddie and Avery, and two dogs, Lucy and Finn.
Six living beings and one vehicle. 19.5 hours and 1,098 miles of asphalt-enabled travel await us. Questions abound:
Is the I-75 coffee supply chain ready for this?

What are the outer human limits of single-day fast food consumption?

Will Maddie and Avery—with irrational expectations of comfort, ease, and expediency—complete the trip without open mutiny?
Read on for the answers to these and other burning questions.
4:38 AM
Tension increases amongst the crew as departure draws near. Finn is a nervous wreck, as the hurried movement of crew and cargo heightens his anticipation for our impending launch.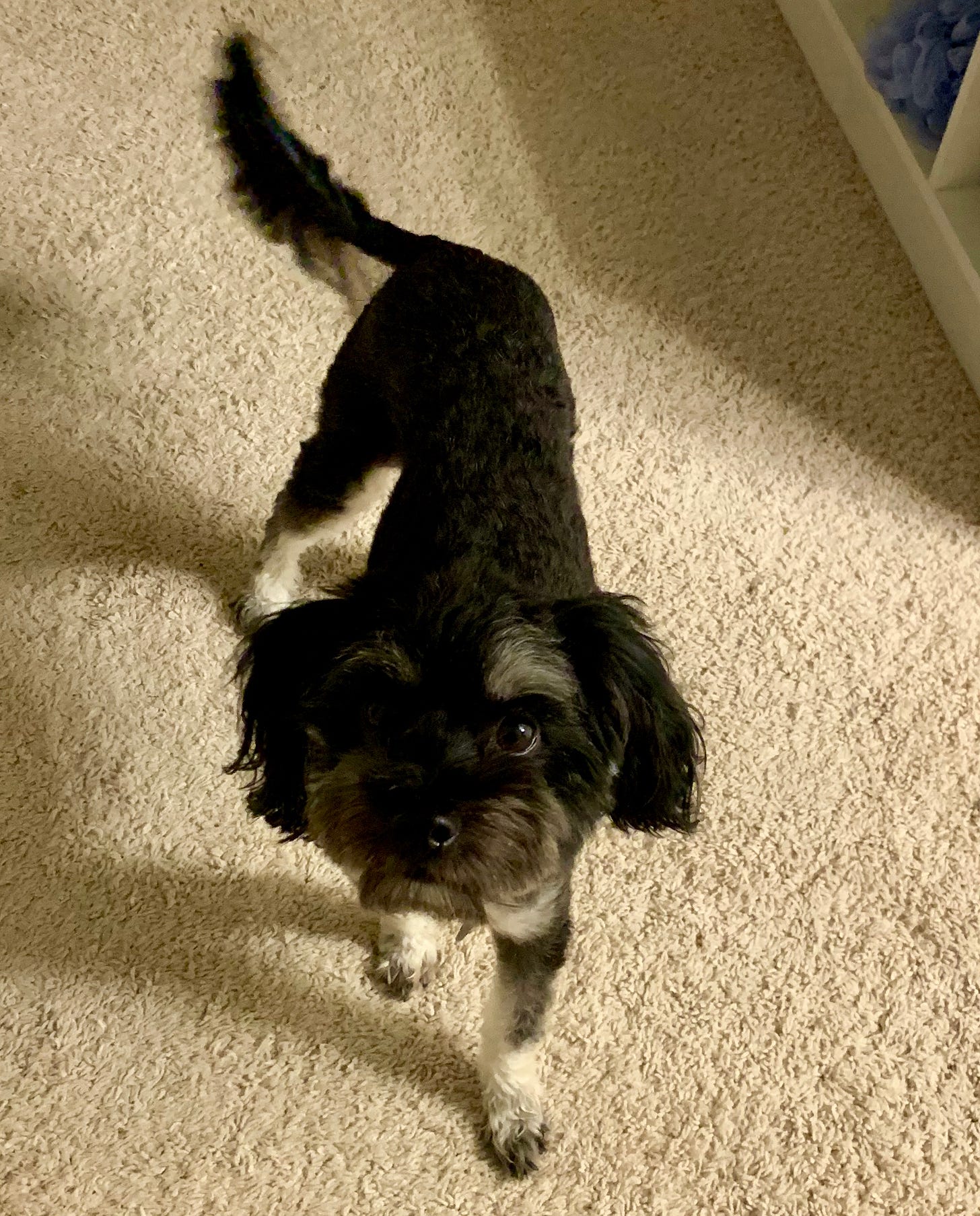 4:47 AM
It is said the journey of 1,000 miles begins with a single step, and the journey of 1,098 miles begins with 2,347 pounds of luggage: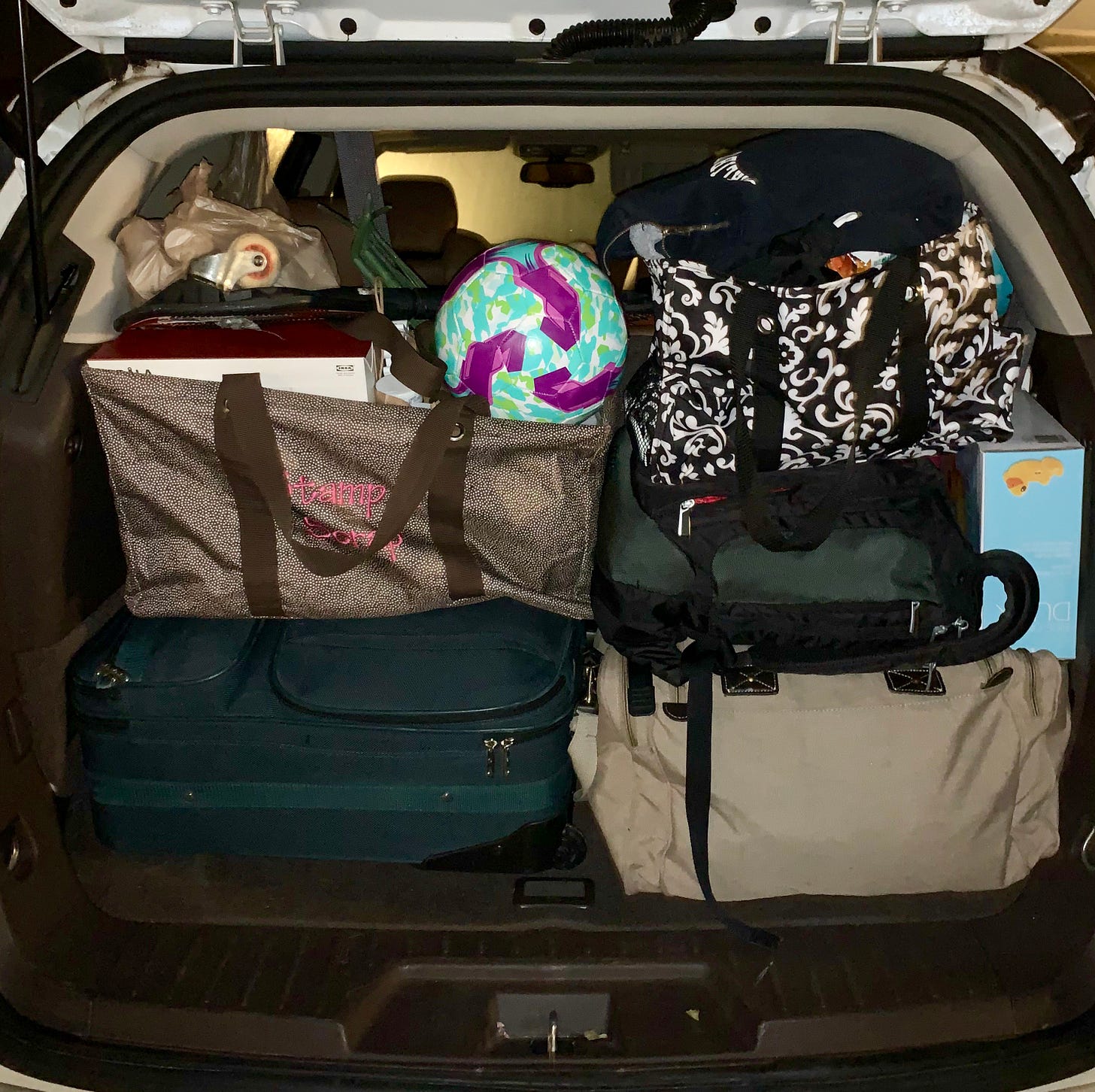 Nikki is the Logistics Director, and bends a cargo hold to her will like no one else.
She artfully arranges bags and boxes, creating an impenetrable fortress of clothing, shoes, and sundries in an act of supernatural packing prowess.
Transporting this amount of luggage via domestic airline would require the deed to our home as payment. But for this trip, the price is paid in sweat of the brow as we load, and I wonder: which price really is greater?
4:52 AM
Lucy defiles the carpet in Avery's bedroom. Is this an act of open protest in defiance of our departure at this ungodly hour?
Or, is this a distress flare, launched to ensure her visibility so she isn't left behind? We will never know for sure.
5:03 AM
The trip itinerary indicated a 4:30 AM departure, but given the unplanned carpet cleanup and the lengthy extraction of two daughters from their beds, the actual departure time is satisfactory.
7:10 AM
Maddie and Avery volley their first protests, claiming starvation.
But my hand is steady on the wheel and my belief is resolute that we will breach the Florida-Georgia line before considering any ports o' call.
8:04 AM
With great diligence, Lucy performs iceberg watch duty.
Her effort seems unnecessary given our tropical traveling conditions. Maybe she is using hard work to make amends for her earlier indiscretion, and I accept her earnest attempt as an apology.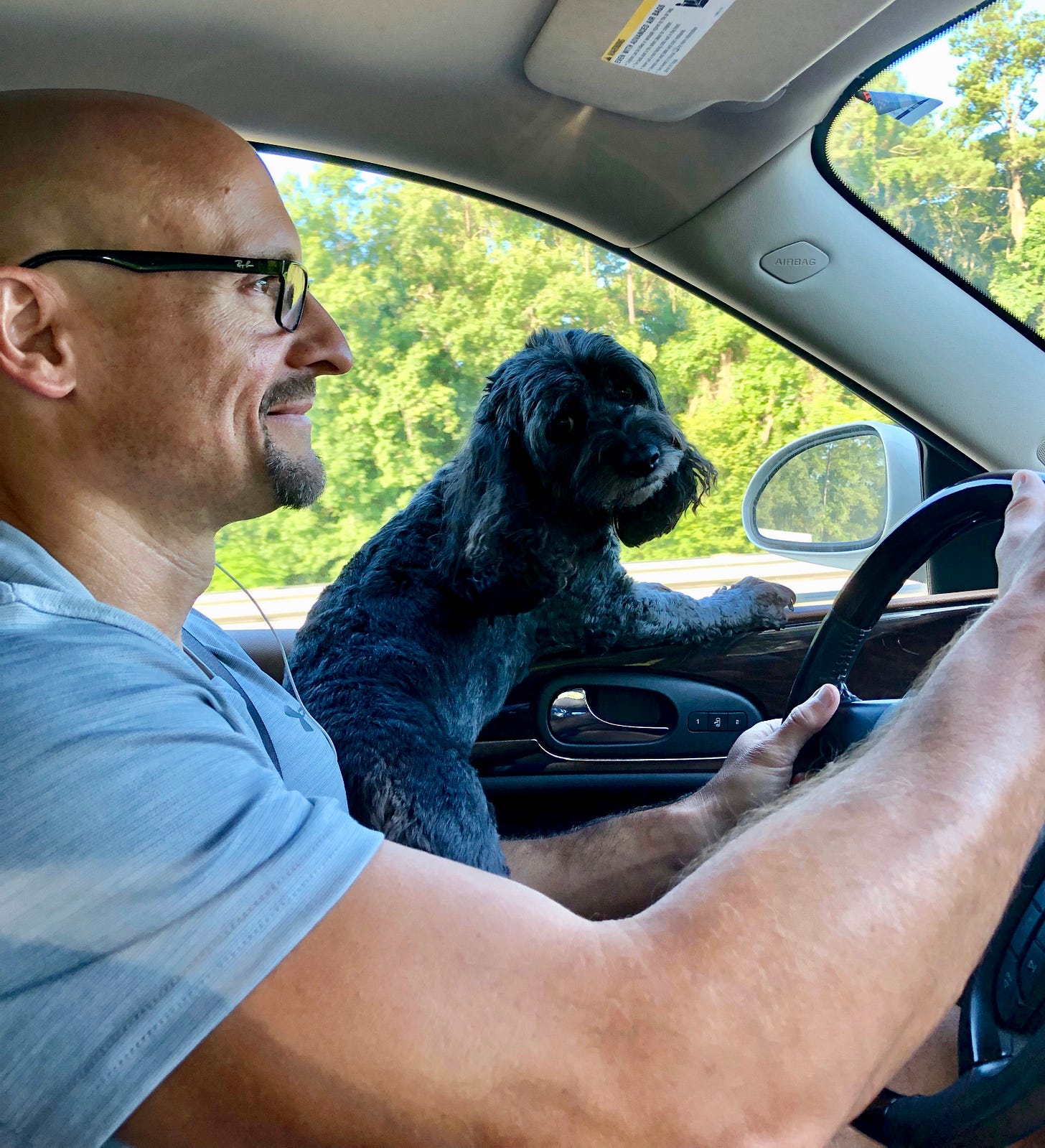 8:09 AM
While on iceberg watch, Lucy steps on the button which lowers the backseat window nearest to Finn, inviting him to jump overboard as we travel at 78 miles per hour.
Fortunately, Finn declines the implied offer, probably the first wise decision he has ever made. He's nearly three and growing up. This is a proud moment.
Lucy is the veteran leader of our canine contingent, but is advancing age eroding her focus?
Or, given her seniority, does she feel entitled to family leadership and is thus trying to sabotage the voyage and my position?
I will keep a wary eye on her for the rest of the trip.
8:28 AM
We have reached Georgia, with seas calm, skies fair, and no stops.
8:35 AM
Our first port o' call is Lake Fair, Georgia, for fuel and McProvisions.
My provision strategy centers on protein. On a journey this challenging, one cannot descend into a carbohydrate-fueled mailiase. (NOTE: This carb-light, protein-heavy plan collapsed as I consumed at least 30 Hot Tamale candies. Also a lot of chocolate raisins.)
Today, liquid serves one sacred purpose: redline levels of caffeine-induced awareness. All other liquid intake is detrimental to trip efficiency and there will be no extra vehicle stoppages on my account. Should I suffer dehydration, my in-laws live near a hospital and I can secure a saline drip tomorrow.
9:47 AM
Finn, nerves frazzled, shakes like a leaf. This requires administration of a treat containing CBD oil. Slowly, his eyes glaze over. For the rest of the day he just lays around, pondering the beauty of it all and daydreaming about milk bone treats.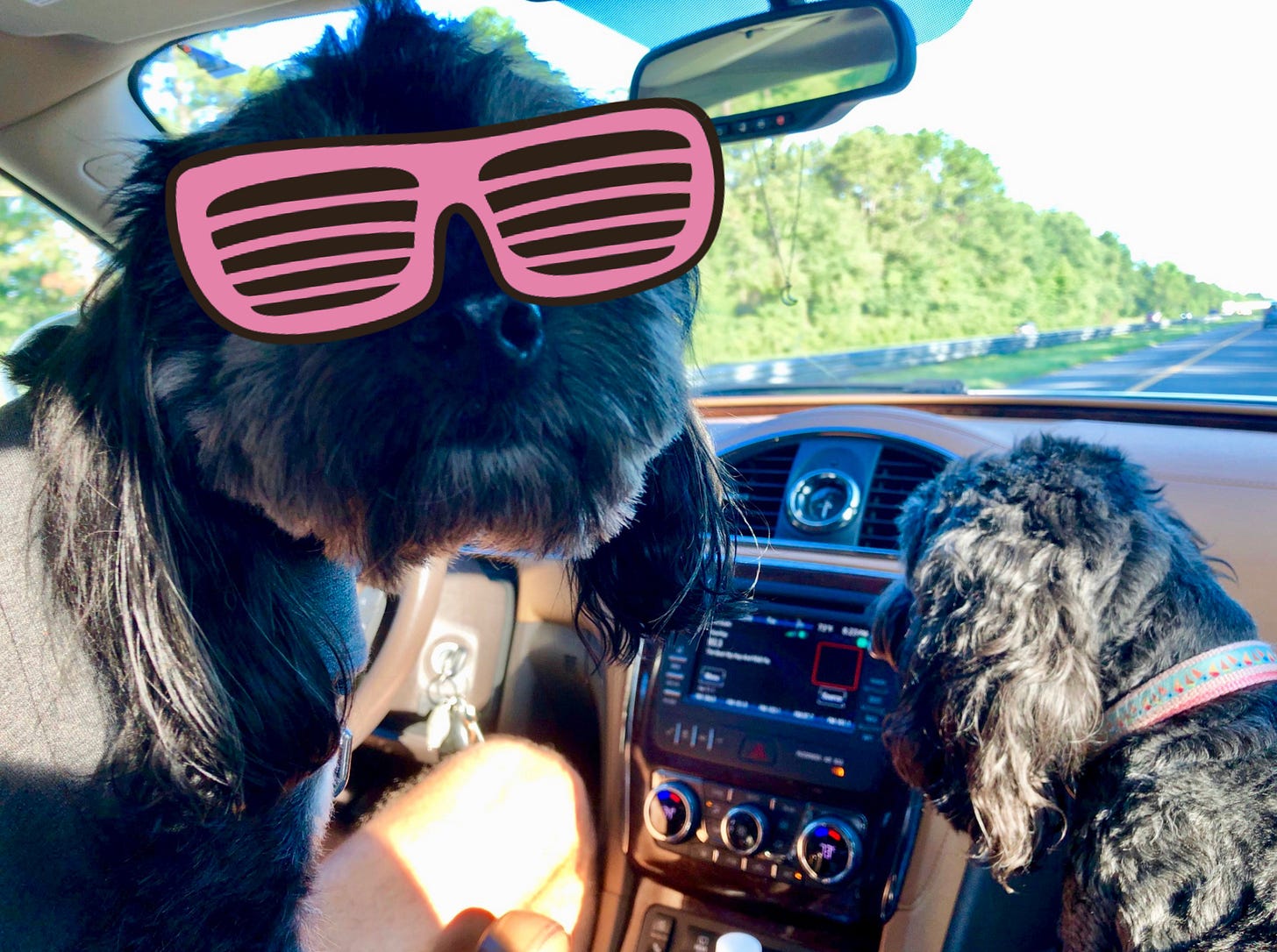 1:07 PM
I have traversed Atlanta in the day, at night, and both on weekdays and weekends. Not once has she ever failed to place obstacle and delay in my path.
Just one time Atlanta: Will you allow us to pass through with speed and grace?
Her reply: "Nay. Not today."
Not ever, I assume. Traffic is a mess.
1:31 PM
Acworth, Georgia is our second port o' call. Arby graciously shares his roast beast with two of us while the fair maiden Wendy serves the other human passengers.
1:47 PM
Weary, I turn the wheel over to Nikki and retire to the co-pilot's seat. There's nary a drop of whiskey or red wine in sight and still so many miles to go before we sleep.
3:19 PM
Greetings to Tennessee.
In 1980, country crossover star Ronnie Milsap paid homage to Volunteer State precipitation with his smash hit "Smoky Mountain Rain:"
While Ronnie's hair is magnificent, his forecast was not: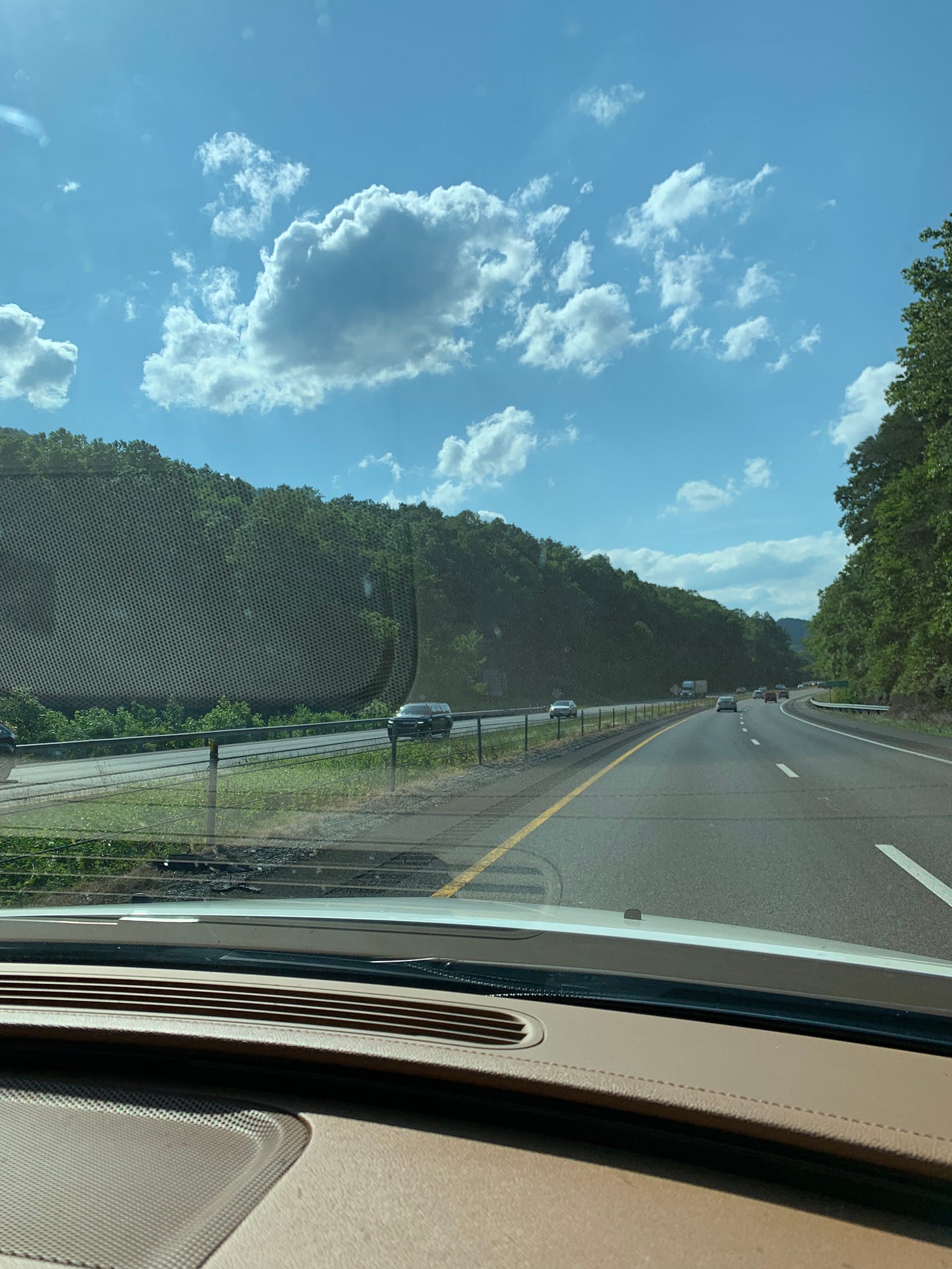 We sail on with clear skies and full hearts.
5:33 PM
Kentucky.
Elvis himself also once sang of rain, in his 1970 hit "Kentucky Rain" (which included a young studio musician named—wait for it—Ronnie Milsap). But again a melodic forecast proves false, with blue skies above us and Kentucky bluegrass below.
9:26 PM
In Dayton, Ohio, we stop for one last round of fast food, our arteries straining under the intake.
On the Sirius/XM Classic Rewind channel, Chrissy Hynde of The Pretenders laments the paving over of the state she grew up in:
I went back to Ohio
But my pretty countryside
Had been paved down the middle
By a government that had no pride
Evidently, Ms. Hynde did not visit the same McDonald's we did, which, during renovations, traded in its paved parking lot for an experience best fit for a Monster truck rally.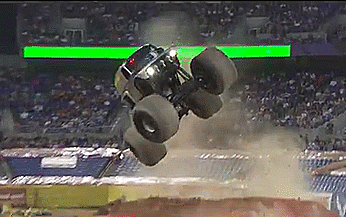 The dinner bill was about $20, which will pale in comparison to our upcoming wheel realignment expense. But our SUV holds together and onward we go.
10:14 PM
Our fortunes shift: the heavens open with fury.
I don't know what Ohio did to anger the Lord. But now He tries his level best to wash the entire state out to sea in one mighty storm.
I assess the situation. We have no lifeboats, and the Coast Guard isn't coming. Seeing no other choice, I take a deep draw from the lukewarm remnants of my McDonald's coffee, set my jaw, and press on.
We splash through harrowing construction zones, fishtail around semi trucks and careen on into the endless darkness. The night's depth obscures my vision and darkens my soul.
Will we live to see the fresh light of a new day? Will I ever again drink coffee warmer than 47 degrees? And who decided orange was the correct color for construction barrels, anyway?
The mind races.
12:12 AM
Pure Michigan! We reach the last state line of the trip. The heavens have ceased their relentless pummeling. Whatever Ohio did to incur the Lord's wrath, it evidently wasn't Michigan's fault.
12:12 AM and three seconds
We hit our first pothole. Also Pure Michigan.
2:33 AM
Victory!
We pull into the driveway. Van Halen cheers us on through the stereo as David Lee Roth screeches:
Hot shoe, burnin' down the avenue
Model citizen, zero discipline
And we did indeed burn down the avenue:
1,098 miles

52 ounces of coffee

24 ounces of Diet Mountain Dew

19.5 hours of travel time

6 states

5 stops

2 heart arteries likely blocked

1 biblical flood
It's been an arduous journey, full of narrow escapes, unholy Ohio weather, and enough fast-food saturated fat to last us the rest of the millennium. But we made it, however worse for wear we may be.
Now hand me one of those CBD oil treats.